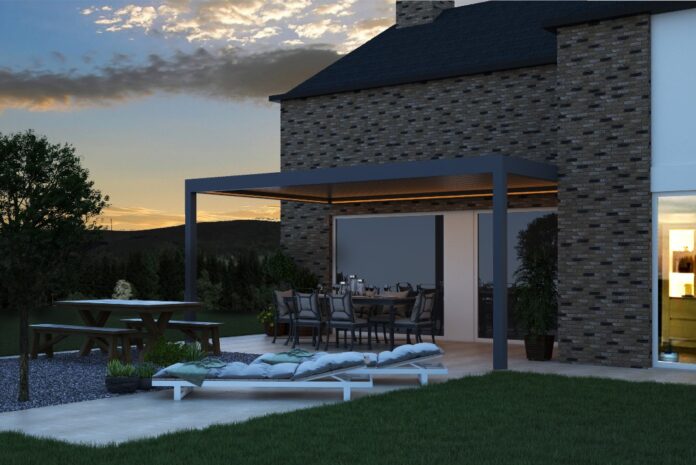 Eurocell has launched new contemporary garden room, pergola and veranda designs. The move extends its range of outdoor living solutions.
The new solutions aim to create business growth opportunities for fabricators and installers. Customers of the PVC-U manufacturer can now create bespoke and inspirational living spaces that marry the functionality of indoors with the beauty of the garden, according to Eurocell's representatives. Whether it is for home working, simple relaxation, socialising or exercise, additional rooms or protected spaces set in a tranquil garden environment can provide a flexible, value-added way to enjoy a better connection to nature that requires minimal maintenance.
Sean Bunyan, Eurocell's head of commercial operations, said: "We are seeing increasing demand for stylish, practical and flexible outdoor living space solutions. To match this demand, Eurocell has extended the range of garden room, pergola, and veranda options we offer.
"The new range has been created to further enhance the outdoor living experience and deliver greater flexibility and increased value to homes. They require no planning permission, can be installed quickly and, once in place, need only minimal maintenance. Best of all, they create stylish and cost-effective alternatives to the hassle, expense, and time constraints of building an extension."
Kyube Plus garden room
The Kyube Plus design builds on the popularity and proven performance of the business' existing Kyube garden room solution. It delivers a modern and naturally styled outdoor space.
The Kyube Plus modular garden room is a high-quality construction, Eurocell's representatives say. It is delivered in prefabricated forms to ensure quick and simple installation.
Highly insulated to provide all-year round comfort, the new Kyube Plus option is available in 13 sizes ranging from 2x2m up to 5.8×3.3m. For customers requiring a bespoke solution beyond the standard sizes, Eurocell can create one-off designs. Additional features such as front canopies and storage extensions are available to add further sophistication and practical benefit.
Clad in vertical panels featuring natural FSC larch redwood, or PVC-U, the exterior appearance is available in six colour choices. The anthracite grey frame colour and satin black door furniture are designed to complement any cladding choice. To illuminate the new space, double-glazed sliding patio doors with the option to add an extra front window on larger sized rooms, ensure that light cascades in.
The space is soundproofed and fully insulated with an electric panel heater. The full electric pack with plug sockets and lighting aims to offer functionality from day one.
The interior's blank canvas, based on OSB board, offers a backdrop from which to create an individual look and finish. Options also include a plastered finish.
The Kyube Plus garden room is quick to install, low maintenance, highly stylish and available in multiple sizing options. It has a myriad of designed finishes and 15-year guarantee on performance. The Kyube Plus garden room aims to set a new standard for outdoor living solutions.
Oasis pergolas and verandas
The new Oasis range offers a stylish appeal with practical benefits, helping make the most of gardens in all weathers. The Oasis veranda is available in both a glazed roof and polycarbonate, with the polycarbonate roof coming in four different colour options. In addition, there is the choice of three frame colours and two types of leg, guttering and footplate.
Eurocell has also introduced the Oasis pergolas range. The Deluxe option aims to take the pergola to a new level of sophistication and style. Thanks to the introduction of automated sliding retractable louvres, users can have the best of both worlds: they can open the roof for unobstructed views or simply retract the louvres for protection against hot sun rays or rain filled clouds.