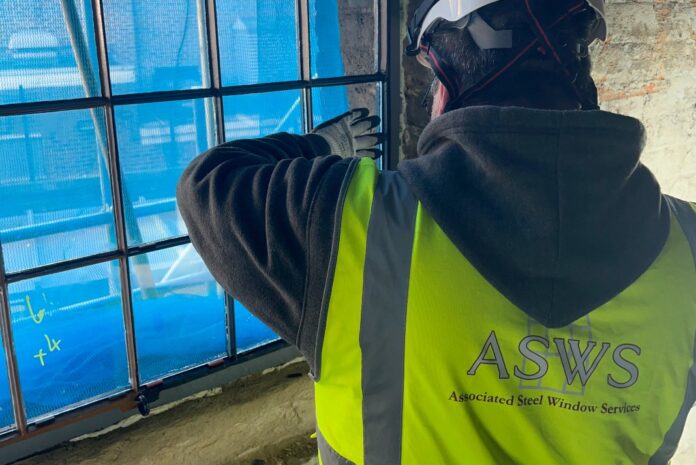 While contemporary steel windows are precision-made and finished with high-performance paint systems over a hot-dip galvanised coating, early examples in many older industrial, warehouse and commercial buildings were all prone to variations in frame section size, corrosion and consequent cracked glazing. Property owners therefore need the skills of a metal window specialist, such as London-based Associated Steel Window Services (ASWS) when it comes to servicing and repair, the ASWS has argued.
As a long-established family business, ASWS claim to be a contractor trusted by heritage bodies and council conservation officers across the country to carry out detailed repairs and refurbishment on historic buildings. Its range of capabilities can include routine maintenance to keep original steel windows operating smoothly and looking attractive.
Interventions always begin with a condition survey to enable recommendations and costings to be given, though this can be extended to include the supply of detailed drawings for each window opening, listing specific faults or damage, including broken panes and a schedule of the ironmongery. The survey can, if required by the local authority or a body such as Historic England, be enhanced to a full report to form part of a planning application, as well as to be included in tender documents.
Advice is given on the viability of servicing versus full refurbishment offsite or even replacement. Otherwise, work will begin with the demounting of all ironmongery for burnishing and lacquering so that easing and adjustment can be carried out. This may include 'setting' or realigning frames to help them close properly.
All broken panes will be cut out from the rebates and replaced with suitable matching or even heritage glass before redecoration is undertaken. This normally requires light rubbing down before a multicoat paint system is applied. All visible paint layers can be removed before redecoration if necessary.
If any of the fittings are found to be too worn for reuse, ASWS has an extensive library of salvaged handles, hinges and other ironmongery which can offer a match. The company's capacities also include the removal, cataloguing and storage of windows while other construction works are carried out.
Associated Steel Window Services is a member of the Steel Window Association. For further information about Associated Steel Window Services visit asws.co.uk or call 020 8665 5335.