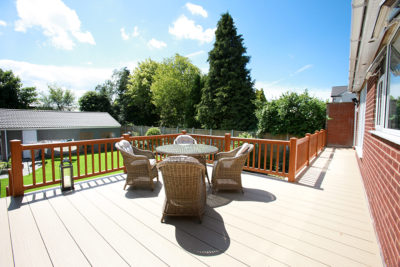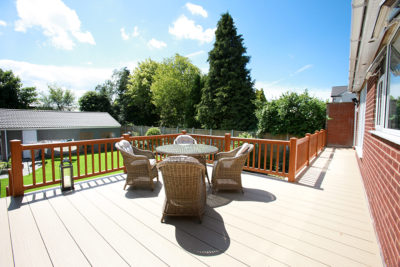 Liniar is renowned for its range of windows, doors and conservatory roofs – but the company has also been manufacturing high quality decking systems for more than 15 years.
Now available in kit form, Liniar PVC-U decking is described as 'the perfect way for you to offer your customers something extra', giving them the opportunity to extend the style of their home into the garden with 'beautiful balustrades' that are fully colour matched to the rest of the Liniar range of windows, doors and conservatory roofs.
The decking kits have been designed for a simple installation with the sections delivered either part or fully assembled to minimise time on site. According to Liniar, there's no fabrication or cutting required, only on-site construction, meaning no need for additional tools or benches.
Each individual deck is ordered in kit form so there's no waste or left over components to store while waiting for an order to come along in the same colour.
Liniar's range is designed, modelled, tooled, manufactured, foiled and stocked at its own state-of-the-art 180,000ft² facility in the heart of the UK.
Liniar's galvanised steel sub-frame, said to be 'unparalleled in the market', now comes part assembled and has been strength tested with a weight of 1.25 tonnes.
The only fully sculptured balustrade system on the market also comes ready constructed, meaning no fiddly cutting and fitting of handrails with pickets.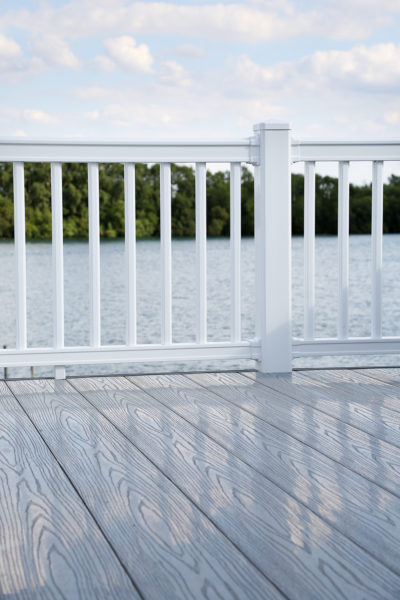 Available in seven colours, including four foiled finishes, from stock, alternative foil finishes are also available and made to order – offering a perfect match with Liniar's range of windows, doors and conservatory roofs with the same single point of guarantee.
By reinforcing the posts and balustrades with steel, there's no timber to create a fire risk or to rot in damp conditions. And with no sanding, staining or painting required, homeowners will love their low-maintenance and long-lasting decking area. Liniar's woodgrain effect deckboards are available in five colours and cut to length for a hassle-free installation.
You can even add matching gates and steps to your installation, which are delivered pre-fabricated – all saving the installer an incredible amount of time on site.
Kits are supplied with all necessary fixings and required hardware to put the deck together.
As well as saving time on installation, all of these benefits remove any issues finding sufficient space on site for cutting and assembly and keep mess and noise to a minimum.
With a vast selection of standard designs to choose from, plus a bespoke facility available, along with a simple ordering system, Liniar decking kits have been specifically developed to save time all-round for busy installers.
For more information go to www.liniar.co.uk/decking/decking-kits or call 01332 883900.