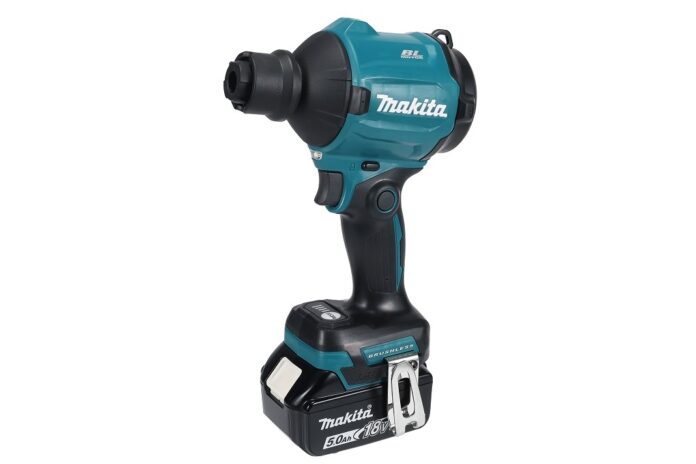 Makita has added a handheld blower to its expanding LXT cordless collection. The versatile 18V DAS180 LXT brushless blower is the latest product from the power tool manufacturer that is also capable of inflating and deflating, simply by changing the nozzle tip.
The new 18V DAS180 LXT blower is powered by a brushless motor with variable speed control. Suitable for a wide range of applications – from cleaning off workbenches, machinery and blocked filters through to inflating inner tubes and play pools – this 'handy tool' makes a useful companion to any kit bag, according to Makita's representatives.
The body is designed with an ergonomic rubberised grip and weighs only 1.7kg, making this tool 'easy to operate with one hand' they say. 'Despite its compact size, the unit is extremely powerful and offers a maximum sealed suction of 10.3kPa,' representatives of the business have said. It's four-stage air volume settings deliver a blowing force of up to 2.8N with a maximum 200m/second air velocity and an air volume of 1.1m³/min.
Other features include a one-touch, tool-less nozzle attachment to quickly adjust the tool for each application. The variable speed trigger controls the blowing force and can be locked in the 'on' position for extended use. A tether feature offers a safe hanging point to secure the tool in overhead applications.
Makita's leaders have also added compatible nozzle accessories to offer a wealth of uses for blowing, inflation and deflation applications. This includes a flexible nozzle set with a ø6.0×800 hose, which is 'ideal for blowing out debris in narrow spaces where the machine cannot fit'.
"This useful tool will make a super work companion, where users can quickly switch between tasks simply by changing the nozzle," said Kevin Brannigan, Makita UK's marketing manager. "Powered by our innovative lithium-ion battery technology, the new DAS180 is compatible with almost 300 products within our ever expanding 18V and 36V LXT platform."