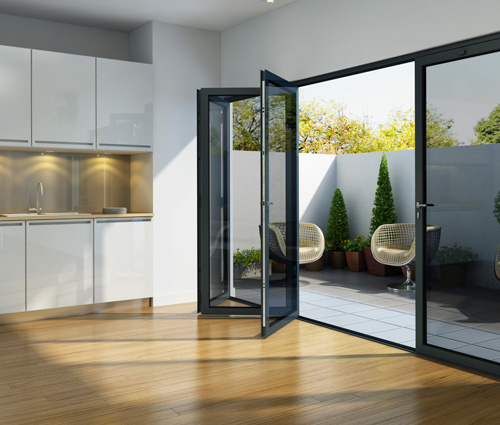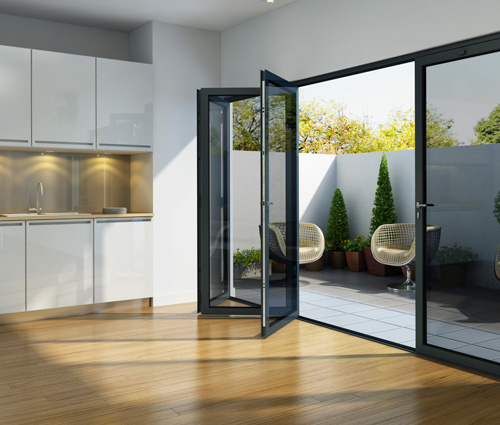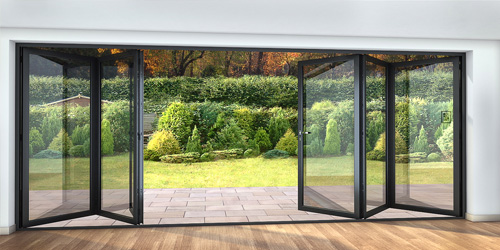 Roof Maker, the UK manufacturer of skylights and roof lanterns, has launched ThermFold, a new super insulated aluminium folding sliding door system designed to perfectly match its high specification range of skylights and roof windows.
The new bi-fold doors claim to set new performance and design standards, with triple glazing and toughened safety glass offered as standard and a 'sleek, contemporary' look. Available with 48mm triple glazed frameless glass units structurally bonded to the outside of the door, they have a 'stunning' flush glazed and 'truly minimalistic' appearance.
Their thermal performance is achieved through a certified 'U'value of 1.0 for the complete system and 0.6 for the triple glazed unit, and a 50mm thermal break between the inner and outer aluminium profiles (rather than the traditional polyamide ones which are reportedly less effective). This technology, which is already being used in Roof Maker's premium rooflights, helps to keep homeowners warmer in the winter with cold spots around windows and doors eliminated.
Andrew Huddlestone, CEO of Roof Maker, said: "Our customers wanted a superior door system that perfectly matched our aluminium rooflights. ThermFold matches both our triple glazed flat roof windows and frameless skylights perfectly in terms of glass finish, tints and aluminium extrusion colours.
"Roof Maker has been very successful specialising in the manufacture of aluminium and glass products, so it made sense to expand the product range. We have developed a premium product offering in response to customer demand. ThermFold not only looks amazing, but it offers market-leading insulation and comes with the Roof Maker standard 20-year guarantee. I am very excited with the initial response we have received."
ThermFold comes with features including 'child friendly' gaskets between the doors to prevent finger trapping; 'virtually invisible' gasket sight lines; 'super thin' aluminium frames to maximize the view – 10% thinner than existing systems; concealed outer frame fixings for professional installation finish; a choice of high quality handles and hinges and six types of sill options including low threshold offerings for that perfect flush floor finish.
Roof Maker can also supply bi-folding doors without any external handles, in order to create a completely flush glazed 'wall of glass'. The outer aluminium frame is covered by the glass unit, with a back screen printed border to colour match the door frame giving a 'minimalistic, high end' look.
Available in a range of standard RAL colours to match the company's rooflights, the doors have a seven to10-day delivery lead time, with specific RAL colours on slightly longer lead times. ThermFold also comes with a 20-year unit seal warranty 'for total peace of mind'.
Customers will be able to visit the recently expanded factory at the company's Leicester site and see the rooflights and bi-fold doors in a new showroom, plus the whole manufacturing process, demonstrating the benefits of buying direct from a manufacturer rather than a 'middleman' with only a showroom or website.
Roof Maker offers customers a professional manufacturer's installation service through its extensive in house fitting teams.