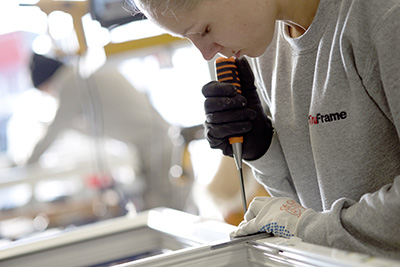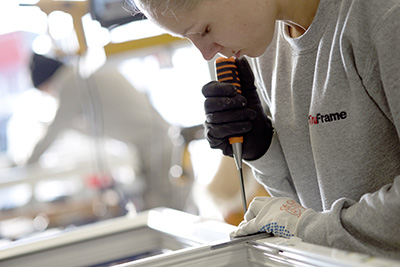 TruFrame is 'scouring the nation' for what it believes to be a better-finished PVC-U window frame than those produced using its own four-step hand finishing process, at its manufacturing facility in Leicestershire.
Now approaching a regular 4,000 frame per week output, the company continues to employ a 'unique' hand finishing process which involves the checking and refinishing of the corner contours, levelling off the outside edges, ensuring uniformity of the corner grooves and the cleaning of all apertures for weld-build up, by 15 full-time, skilled craftspeople. Careful quality control procedures and a tight ISO9001:2008 certification are also said to add value to this important finishing process.
While the company still harnesses the latest cutting and machining centres, it believes that the 'finer details' of frame finishing 'make all the difference', as managing director, David Firmager pointed out: "It would be easier from a production and quality control point of view to eliminate this additional process. But I, along with our customer base, value the attention to detail, added quality and the fact that it's part of our unique proposition at TruFrame.
He continued: "Despite capital investment by many, I still know of poor frame finishing and quality in this industry. I fully stand by the quality of our products and would challenge any installation company to find a better finished frame!"