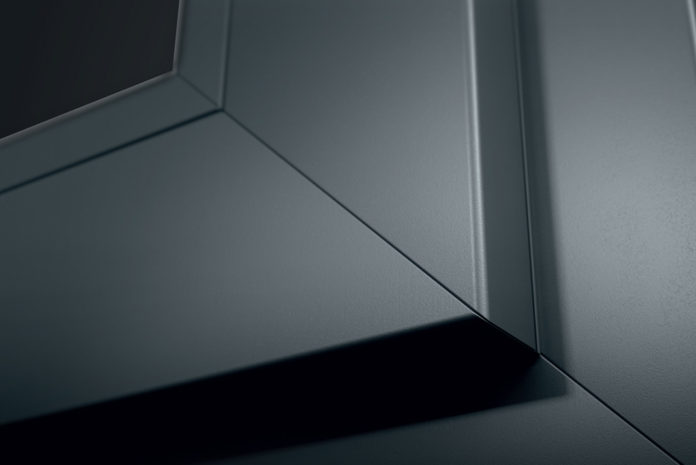 Veka UK Group has unveiled an exclusive ultra matt material which it says is 'unlike anything else in the industry'.
This innovative surface, called Spectral, is exclusive to Veka UK Group and was launched at the FIT Show where it was reportedly welcomed with 'fantastic feedback', and was hailed the 'star of the stand'.
Marketing director, Dawn Stockell, said: "This unique product uses ground-breaking technology to create an ultra-smooth, ultra matt finish that has unrivalled performance benefits.
"Visitors to Veka UK Group's stand at the FIT Show were impressed by its smooth and modern aesthetic; someone admiring the Imagine bi-fold in Spectral's umbra grey even asked the team if we had started offering aluminium systems!
"I'm told that Aztec Windows was already pricing jobs using Spectral swatches the day after we launched it on the first day of the show.
"Spectral has been years in the development and has been created with our customers at the very heart of the process. We understand the need for original products that not only look great but offer exceptional performance. We identified a gap in the market for a highly durable matt product that we could guarantee would look great for years to come, and which would bolster our customers' already impressive product offering," continued Dawn.
"Matt finishes seem to be growing in popularity on everything from cookers to cars, but rather than just being a 'fashion fad', the construction industry has been seeing a steady rise in demand for this look for a number of years.
"Matt has long been favoured by architects and designers, and this sophisticated aesthetic is now being demanded by style-conscious consumers.
"Spectral uses next generation surface technology to create an extraordinary finish that simply cannot be matched by any other matt PVC-U surface on the market. It is highly scratch resistant, has anti-fingerprint properties and is also extremely resistant to UV light, extreme weather conditions and harsh chemicals. Dirt can be wiped away with ease, for a product that stays beautiful for longer," said Dawn.
"By absorbing rather than reflecting light, Spectral offers a denser, richer quality of colour, and because it is velvet to the touch, it feels just as good as it looks."
Simon Wade, MD of Rugby Double Glazing, said: "This is the future of our business. Homeowners that we deal with want to add as much style and personality to the outside of their home as they do with, say, a new kitchen. We need to offer a wealth of different options to stay ahead of the competition. I think the new Spectral finish is phenomenal, and with its aluminium 'look', it could also potentially open up more commercial opportunities for us too. I've already requested some samples for the showroom."
Spectral is available in four shades – graphite black, anthracite grey, platinum grey and umbra grey. These colours are made to order with a four week lead time and can be laminated on one or both sides of the product. They can also be complemented with shades from Veka's Variations colour range.