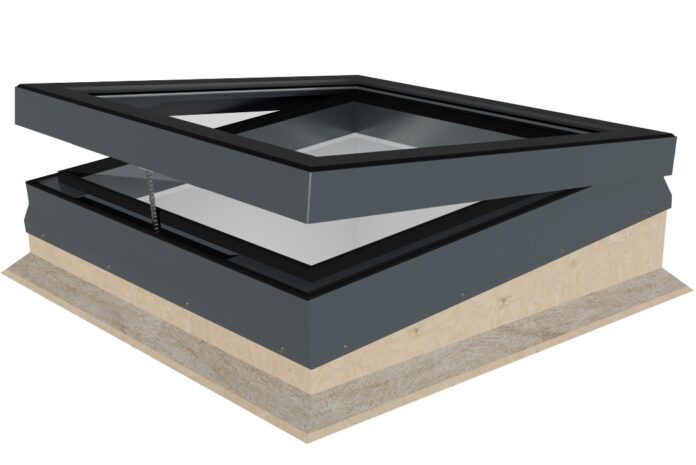 Whitesales, an overhead glazing specialist, has launched an all-in-one proprietary solution that takes away hassle and makes it easy for builders to comply with building regulations, its representatives say. Updated regulations require all rooflight upstands built on site to meet a 0.35W/m²K U-value.
The business has developed a pre-assembled timber sloping upstand to suit its 'em.glaze' fixed and hinged aluminium rooflights. When using the product, builders don't need to build anything separate on site or to worry about U-value calculations for Part L compliance, according to Whitesales' staff.
The Whitesales upstand saves time on site because it comes pre-assembled rather than in kit form, like some other timber upstands, its representatives argue. The product can also be supplied to site ahead of the rooflight, if needed, to suit on-site timescales.
With upstands now classified as part of a wall feature for the purposes of Part B fire safety requirements, Whitesales has ensured that its version meets the EN13501-1 fire resistance standard, with pre fitted fire-rated insulation sandwiched between the plywood elements and the addition of an A1 fire-rated plasterboard lining as standard. Whitesales is offering the new timber upstand in 18 sizes to match with its complete 'em.glaze' rooflight range.
All of the product sizes meet the standard requirement for upstands to be at least 150mm at the lowest part of the flat roof. All also have a 5 deg pitch to ensure adequate water run-off. The upstands are constructed from FSC-certified C16 grade CLS timber battens and studs, and marine-grade plywood, with an insulating foam sandwich layer (to give thermal performance) and a plasterboard inner.
Sioned Roberts, Whitesales' marketing director, explained: "Upstands obviously play an important part in ensuring that rooflights sit in the right position and fit securely without any risk of leaks. It has always been easier and more reliable for builders to choose a rooflight and kerb assembly from a single supplier like Whitesales, to avoid remedials. Now, there's an even stronger incentive given that the installing company is liable for demonstrating Part L and Part B compliance.
"We are providing a combined U-value for the upstand and the rooflight. All our customers have to do is focus on the installation and leave all the worries about compliance to us."
The new Whitesales timber upstand is available from stock in the standard sizes on a lead time of two to three weeks for roof openings from 500 x 500mm right up to 1500mm x 3000mm. Read more details online at whitesales.co.uk.