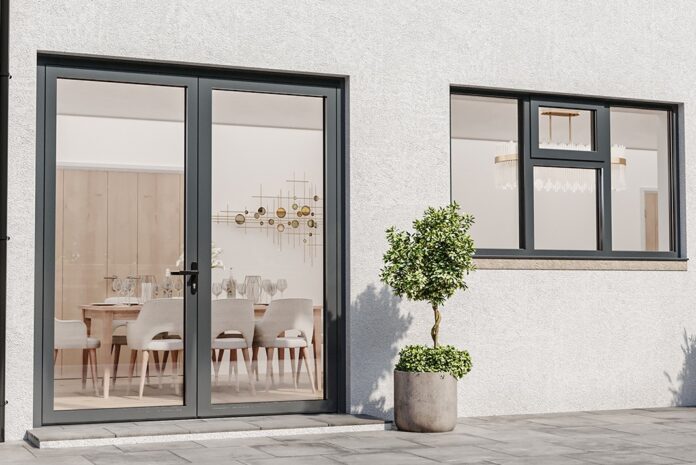 The team at AluK has updated the firm's high-performance 77 window and door system. The update was completed in order to ensure that the system not only complies with the 2022 updates to Part L of the building regulations but that the system is also ready for the 2025 Future Homes standard, according to Aluk's representatives.
The 77 system meets the 1.2 W/m²K U-value limit set for Part L compliance in new builds using standard 1.0 centre pane double glazing. If even lower U-values are required, the system can also accommodate triple glazing to achieve 0.8 Wm²K, which is the expected target in the 2025 Future Homes standard. The system has been given new glazing foams and centre seals to enhance the wind and water resistance, and has passed the PAS24: 2016 security test.
The modern, minimal aesthetic of the 77 system means that it is ideally suited to new build settings, according to AluK's representatives, and particularly multi-storey apartments where a uniform look is desired. The floating mullion open-in French casement option is especially useful for ensuring that Juliet balconies tie in with the rest of the building, they say.
The 77 system's flat, square profile design and fully rebated flush door can open up opportunities for fabricators and installers in the new build market, we are told. The open-in and open-out window profiles pair with the door, making it easy to create a coherent look without compromise on light, views or sightlines, AluK's representative explained.
Also as part of the update, the new AluK Novae handle designs are available in black, white and silver. Additional hinge options are also offered, including face fixed, slimline barrel or fully concealed. A new mid rail means that doors can now be fabricated with solid panels at the bottom if required, in either single or double configurations.
Business representatives have said that the 77 system is now easier for fabricators and installers to manufacture and fit. The system includes simplified gasket and bead combinations which reduce stock holding and ordering, and clip-in membrane details for the outer frame profiles which reduce fabrication time and provide more robust weathering details. The handle and hinge choices have also been deliberately designed to give freedom and flexibility to buyers while still being cost effective and easy to fit, we are told. For more details, visit uk.aluk.com.