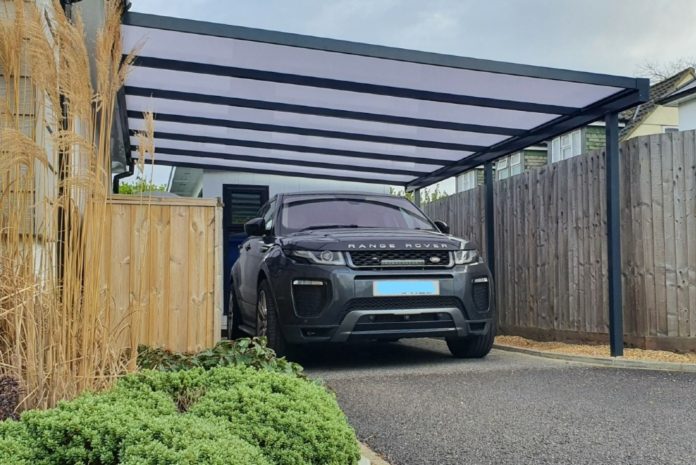 Since launching earlier this year, the Novolux Pro Self-Supporting Kit Canopy system, which uses aluminium profiles, has reportedly been taking the market by storm: hundreds of builders and installers having already invested in the home improvement product. Craig Weatherley, Novolux's national sales manager, said: "We've seen a surge in demand for this new system since bringing it to market, which has been boosted by the fact we can offer it with an impressive five-to-10-day lead time. It can also be installed in less than a day, offering fantastic versatility with only a small number of components, making installers' lives easier and helping them get ahead of the competition."
Used for a range of applications including car ports, patio covers, children's play areas, walkway covers and bike shelters, the Novolux Pro Self-Supporting Kit Canopy system is an affordable way to improve any home. Supplied as a complete kit, ready for immediate installation, it is available in bespoke sizes, as well as white or anthracite grey aluminium profiles.
The powder-coated aluminium system is made from thick aluminium profiles and 16mm structured polycarbonate panels. It comes with integral rainwater drainage included, eliminating the need for PVC-U guttering and downpipes. The system also comes with post feet already pre-welded to the posts, for ease of installation, as well as aluminium sheet closures for extra strength and rigidity.
Craig continued: "Installers across the country are quickly seeing the benefits of the Novolux Pro Self-Supporting Kit Canopy system and have tapped into this lucrative and growing market. With this new system, we're promising something that's quite hard to come by in the current market – a great product that's simple to install, backed by a fast turnaround time and great customer service.
"If you're an installer looking to benefit from a versatile product from a reliable, high-quality supplier, then give us a call today."
Based north of Newport, Novolux is a supplier of multiwall and solid polycarbonate sheet products. The company also supplies roof windows and lanterns, loft ladders and roofing accessories, all from stock and on a national basis. For more information, call 01495 364 300, email sales@novolux.co.uk or visit www.novolux.co.uk.