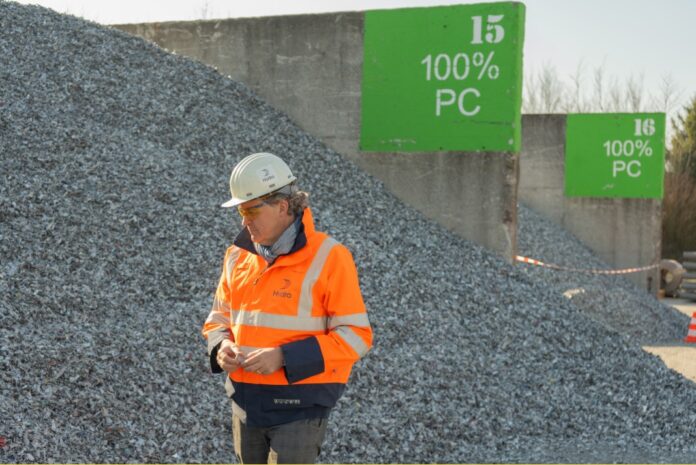 Technal and Wicona have become the first aluminium building system companies to manufacture door, window and curtain walling profiles from 100% recycled aluminium, the firms' representatives have reported. The product is called Hydro CIRCAL 100R, and the new recycled material is produced from 100% post-consumer aluminium. This means that it is possible to specify profiles with a near-zero carbon footprint (0.5kg of CO2e/kg of aluminium on average), which they say is the lowest in the world. Technal and Wicona are part of Hydro.
Exclusive to Technal and Wicona, Hydro CIRCAL 100R "exemplifies the brands' innovative spirit and commitment to anticipating specifier needs, going beyond regulations and playing a leading role in the decarbonisation of tomorrow's buildings", according to spokespeople of both businesses. The Norwegian aluminium group Hydro is marketed as the only producer in the world able to supply this recycled aluminium with a near-zero carbon footprint.
Additionally, the group has established its own recycling channel. Its Dormagen plant in Germany harvests aluminium from windows and façades during the deconstruction of end-of-life buildings. This is crushed and separated from foreign and non-metallic materials before the aluminium is shredded into small segments. These aluminium chips are then sent to Hydro's plant in Clervaux, Luxembourg, where they are manufactured into low-carbon billets: Hydro CIRCAL 100R and 75R.
Thanks to new technology, the right alloy can be identified precisely, which supports the production of construction-quality, 100% recycled aluminium and avoids the need to add any primary aluminium to the mix. Key to this project's success has been the knowledge gained from producing Hydro CIRCAL 75R, an aluminium that contains a minimum of 75% recycled post-consumer scrap. That product has been available since 2019.
The Technal extrusion plant in Toulouse, France, and the Wicona extrusion plant in Bellenberg, Germany, are in the process of delivering the first two projects that make use of the new material. For those projects, 130 tons of Hydro CIRCAL 100R aluminium profiles have been manufactured, providing a combined carbon footprint of 65 tons. This is a reduction of 800 tons compared to the carbon footprint of standard aluminium produced in Europe.
To read more about the firm's sustainability approach, visit technal.com/sustainability and wicona.com/sustainability.