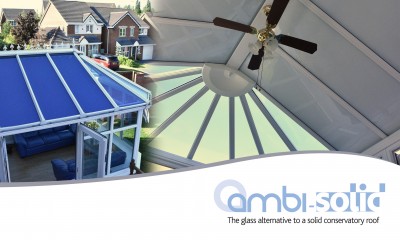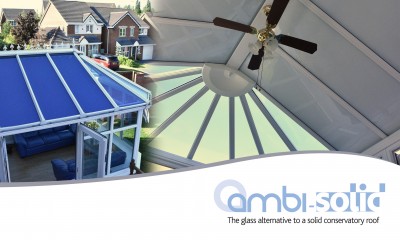 Specialist toughened glass manufacturer, TuffX Processed Glass, is launching a new product which it says will give conservatory roof installers 'a more cost effective alternative to the solid tiled conservatory roof replacement'.
Called Ambi-Solid, TuffX claims the new solid glass roof system is 'lighter, quicker and easier to install' than traditional solid tile effect roofs.
Graham Price, TuffX's managing director, said: "In recent times, there has been an explosion in solid tile effect roofs to satisfy the dilemma of a conservatory being too cold in winter and too warm in summer. But a conservatory is sold as an airy light-filled space and a solid tiled effect roof will not only make the conservatory darker, but it can reduce light to adjoining rooms too. With Ambi-Solid you now have the option of a solid glass panel solution which eliminates the too hot, too cold dilemma but without loss of light. In short, with Ambi-Solid you have the best of both worlds."
The Ambi-Solid glass is a 24mm double glazed unit that can be used in all or part of the roof, offering total flexibility for the customer. The remaining panels can be replaced with tinted high performance conservatory roof glass to match the performance and aesthetics of the solid glass. TuffX says the Ambi-Solid glass panel has a 'U' value of just 1.1 W/m2K and can improve the energy efficiency of a conservatory.
Ambi-Solid glass reportedly requires no structural work to the roof in order to accommodate the panels and because installers are not having to change the structure of the conservatory into an extension, as you would with a solid tiled roof, the Ambi-Solid roof is exempt from Building Regulations.
Graham Price added: "Our research has shown that homeowners clearly enjoy a viable alternative to a full roof replacement.
"They welcome the benefits the Ambi-Solid glass can offer in terms of light, speed of installation and cost. And because the product offers 78% solar heat reflection, they have a room that can be enjoyed throughout the seasons too."