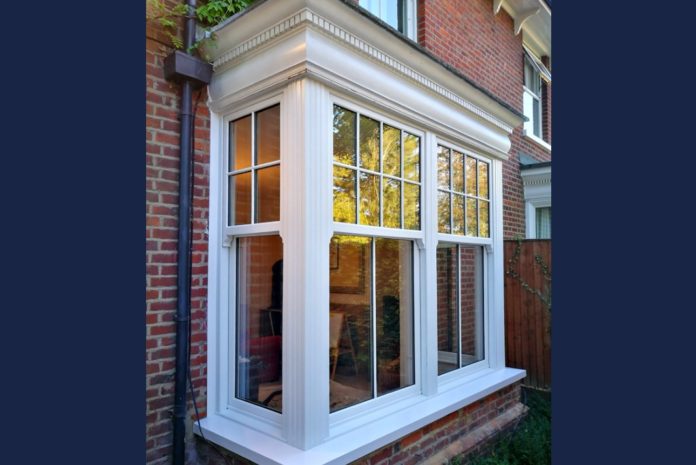 The vertical sliding (VS) sash manufacturer, Roseview, continues to enjoy the wide range of dedicated ancillaries manufactured by Window Widgets, specifically for its specialist VS sector. The VS ancillary products from Window Widgets are suitable for frame depths from 125mm to 148mm, and have a load bearing capped at two tonnes. They include a 40mm inline coupler, a VS to 70mm frame coupler (perfect for joining a typical entrance door to the VS frame), a VS baypole and a 900 corner post. There's also the benefit of single length ordering for Roseview, and the option of seven shades of white and 35 different colours and woodgrains, depending upon individual item codes.
Mike Bygrave, Roseview's sales and marketing director, said: "Window Widgets is a longstanding business partner for us. Its product design philosophy fully supports the way in which we work with our vertical sliding sash window range. Sash windows are very much a premium proposition, and ones that often require considerable load bearing attributes, so the proven structural capabilities of their couplers and corner posts are a must for us, as a specialist and award-winning manufacturer.
Mike added: "This full range of ancillaries is a major plus for us, along with [Window Widgets'] backup and expertise. We also benefit from its other general components used throughout the manufacturing and installation processes."
Adrian Clare, Window Widgets' technical sales executive, added: "Roseview is one of a number of customers for our vertical sliding sash window ancillaries. It values the engineered nature of our products, along with the support. Everything is fully tested, compliant with the latest standards and manufactured within the UK, which is another key selling point of our strong proposition for the VS sector."
For information about the Roseview vertical sliding sash range, visit roseview.co.uk. Read more about Window Widgets online at windowwidgets.co.uk. To request a copy of the product catalogue, email sales@windowwidgets.co.uk or call 01452 345 848. Look out for the social media handle #widgetscomedy to be a part of the business' 21-year business anniversary initiative, in aid of two glazing industry charities.