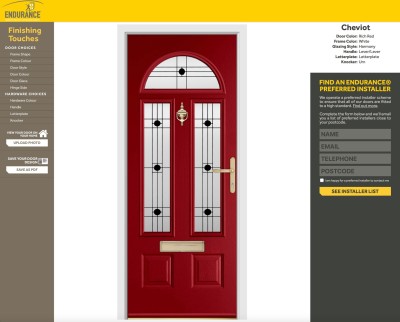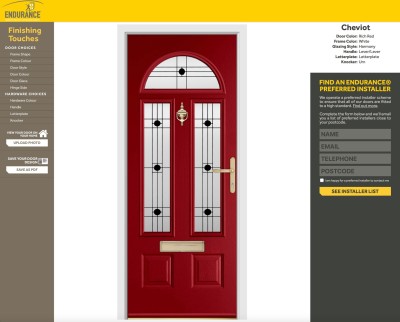 Endurance Doors has launched a new, bespoke online door designer, for solid and secure composite doors, in partnership with Business Micros.
Following several months of development, the new door designer has been designed to be fully responsive across all devices and offers the facility to upload images, so each door can be accurately placed on a consumer's house. According to Endurance, this also eliminates the need for any separate and 'resource hungry' apps, as everything is run in the browser window.
Visitors to the site are taken on what is described as a 'seamless journey' through 54 different door styles, 16 door slab colours, 10 frame colour options and a wide range of hardware and glass specifications, before settling on their end design. This all happens in a screen environment that shows each Endurance Door off to the largest size and in considerable detail.
Once the process has been concluded, the chosen bespoke door can then be saved, printed or e-mailed and in the next few months, there will also be the facility for the consumer to pass their creation directly to their preferred installer.
With over 50% of web activity now from mobile devices, Endurance says it is expecting considerable website traffic. The company's 2016 marketing programme will also see the launch of further consuming facing materials in the first half of this year.
Stephen Nadin, managing director of Endurance Doors, commented: "The investment in the new door designer has been considerable, yet I believe it is one of the most important marketing tools for our growing network of partners. With large and detailed images of each door and other key features, we believe that we can give people the best online composite door experience regardless of device."
To see the door designer for yourself, log on to www.endurancedoors.co.uk