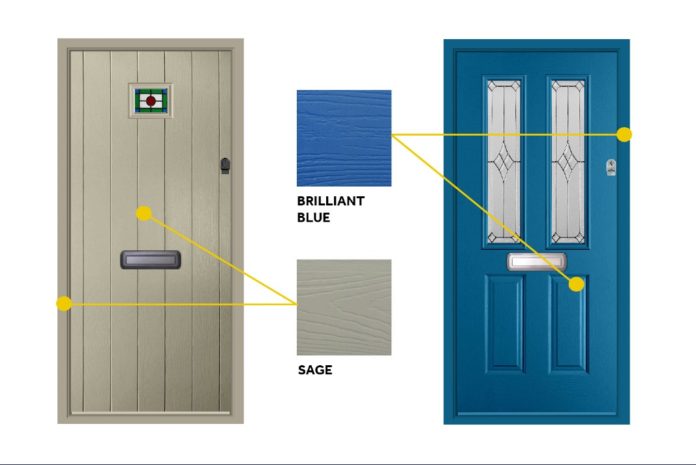 Endurance Doors has extended its range of colours and finishes for solid timber core composite doors to 19, with the introduction of Brilliant Blue and Sage. Brilliant Blue reflects the anticipated trend towards blue as the next 'in vogue' colour, as identified by influential interior design and paint specialists over the last 12 months, including Dulux and Pantone.
According to sampleboard.com: "The colour blue is evocative of the sea and the sky. It brings together the deepest depths of the ocean with the lightness of the seventh cloud. It stands for integrity, power, tranquillity and health, and is considered as beneficial to the mind and body."
While Brilliant Blue reflects a new trend, the introduction of Sage is a nod to heritage and the Country Collection, both with a matching foiled frame. Scott Foster, head of group sales and marketing for Endurance Doors, explained: "Sage is an olive grey toned colour with a matt embossed surface texture. It's an elegant green sitting midway between Chartwell Green for a bolder statement and the much paler Pearl Grey for a lighter appearance and we expect this to be a popular choice."
He continued: "At the same time, the introduction of Brilliant Blue shows that as a business we're quick to adopt the latest interior design trends as a forward-thinking business and one that has a very healthy product development programme, thanks also to our in-house foiling facility for PVC-U frames." For further information about the Endurance Solid and Secure composite door range, including the latest colours and finishes, call the sales office on 01652 659 259. Alternatively, visit endurancedoors.co.uk or email marketing@endurancedoors.co.uk. You can also follow @EnduranceDoors on Twitter.