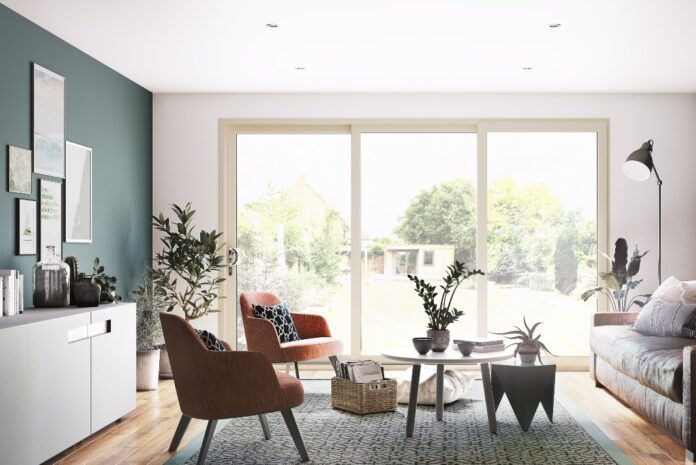 The team behind Patiomaster at Framexpress has added triple track sliding patio doors to the company's 'Everything Better as Standard' range.
Triple track PatioMaster doors can be used to create openings up to 6 metres wide, the fabricator's representative explained, making the product 'an ideal, cost-effective alternative to wide-span aluminium sliding or bi-folding doors'.
Stuart Green, Framexpress' director, added: "We are always looking for way to support customers and add more benefits to our Club Framexpress membership. This includes growing our product range to meet increased demand from homeowners.
"We are the official West Midlands PatioMaster dealer, and our customers are already familiar with the PatioMaster system, so Triple Track was the obvious choice to offer a wider-span PVC-U patio door option."
Advertised as 'a perfect match to Optima windows and PatioMaster in-line sliding doors', the new triple track PatioMaster door offers U-values as low as 1.3 with double glazing, and 1.0 for the 36mm triple-glazed option, thanks to the product's 60mm multi-chamber PVC-U and aluminium composite outer frame.
Edge-located rollers enable easy on-site adjustment, according to Framexpress' representative, and the system works with standard PatioMaster cills, posts and couplers for straightforward fitting.
The doors use stainless steel tracks for easy glide opening and anti-lift sashes for extra security.
"At Framexpress, we are committed to manufacturing everything better as standard," Stuart went on to say, "that means using better componentry, offering better customer service and delivering everything on time, in full and spot on."
The Framexpress team is celebrating 25 years of manufacturing this year. Leaders of the business recently increased production capacity by purchasing a new 15,000ft² door facility, located close by to the company's Telford headquarters. Read more about the business online at the fabricator's website.