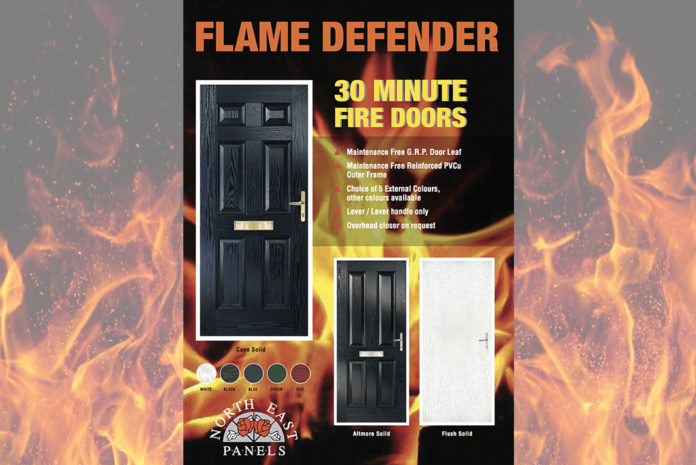 North East Panels, a trade supplier of PVC-U panels, PVC-U internal doors, garage roller shutters doors and composite doors, has announced that its fire door has achieved FD30 certification.
Using Halo profile from Veka UK Group for the outerframe, the Tyne and Wear-based team had redesigned its fire door, with new reinforcements and a different range of hardware, before sending the updated system all the way to Barcelona to undergo testing.
MD, Jimmy, Wood said: "We've always been proud of our fire doors, which we have manufactured for over ten years. They combine numerous style options with all the relevant safety accreditations a specifier could require.
"Following the Grenfell disaster, the whole industry had a 'shake up' (and rightly so) meaning that the rules were tightened and standards raised. This applied to manufacturers, to fabricators and to installers. Everyone must now meet even stricter regulations. It's not about the reputation of the industry, but the absolute safety of the public.
"We've always been committed to quality and we strive not only to meet, but to exceed expectations," continued Jimmy. "North East Panels is a long-standing manufacturer that has been supplying to the trade for more than 20 years. Our customers know they can specify our products with confidence, and that they will comfortably meet the demands of any project they're working on. To ensure our fire door went above and beyond what was expected with the new legislation, we completely redesigned the product.
"We were keen to 'tick the box' for testing straight away, but it seemed that all UK slots were booked up for the foreseeable future. So, for the benefit of our customers, we made a significant investment in independent testing and arranged to work with Applus+ in Barcelona, one of the primary European laboratories working in fire-safety testing and certification.
"Our door samples were put through rigorous testing over two days, and had no problem achieving the FD30 requirements," said Jimmy. "We're proud to offer trade customers throughout the North East – and beyond – a simple, safe, straightforward and stylish fire door option for all applications."
Veka UK Group sales director, Neil Evans, said: "North East Panels has been a Halo customer for around four years, and we were pleased that the high quality of the outerframe helped to contribute towards the recent Fire Safety accreditation. It's always good to see fabricators and installers investing in independent testing to prove their commitment to quality and to protecting and reassuring customers."