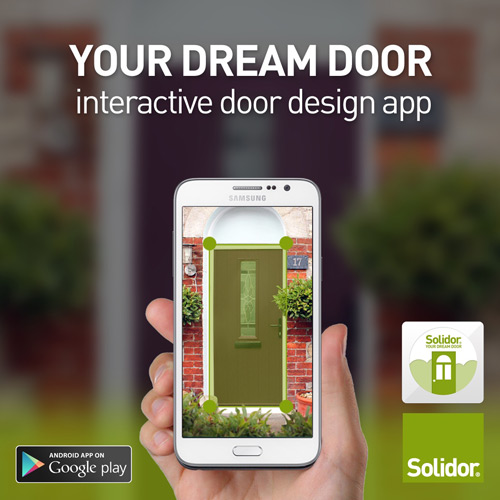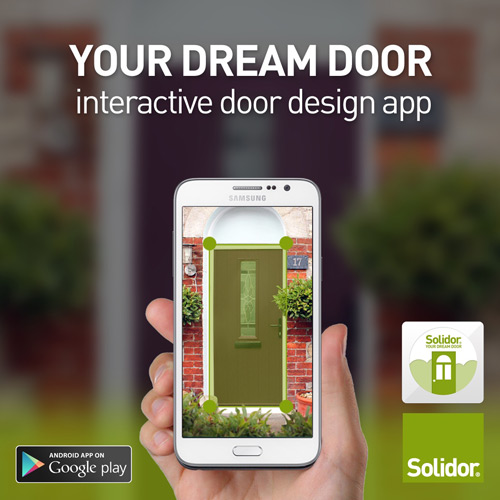 Following the launch of Solidor's improved door designer app for Apple devices, the tool is now available on all Android devices, through Google Play.
The new app is said to provide a better user experience for consumers and salesmen with mobile devices and tablets. The app offers access to the full Solidor range, including side panels, French and stable doors. Improved functionality and additional features allow users to save various door designs in their own Solidor gallery, find their local installer and share their design with others.
Users can design a door specifically to suit the front of their home by taking a photograph or choosing one from a pre-determined gallery of house facades. Consumers are able to choose door and frame colours both inside and out thanks to the new inside view feature, as well as glass options and hardware finishes. Once they are happy with the final design, there's the facility to request a quote.
Joe Martoccia, managing director of Solidor, commented: "So far this year it's been all about investing in our business operations and we're now seeing some excellent service performance indicators. Whilst we are very much still on that journey to excellence, we can now begin to introduce some of the exciting business development plans. We will be introducing a superb range of powerful sales and marketing tools to support our network partners and making our door designer app available across both mobile platforms is another example of delivering industry leading sales enablers to our network.
"The product innovation and marketing that have helped build this incredible brand is now very much back in full swing and we've an incredibly exciting future ahead of us."
You can download the free Solidor app at Apple's App Store or on Google Play by searching for Solidor.
To find out more about Solidor visit www.solidor.co.uk, call 01782 847300, or follow @solidorltd on Twitter.