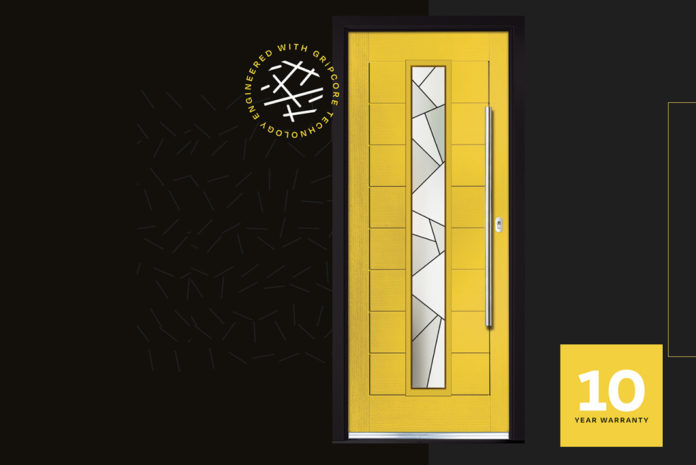 Composite door manufacturer, Doorco, is launching a new addition to its composite door range with a hybrid door slab engineered using Gripcore Technology.
This new door has the same GRP skin but with a solid timber core, and is said to offer 'unrivalled results' when it comes to tolerance and security. It is also backed up by Doorco's promises on service, quality and delivery, and will be available to the market in the coming months.
Dan Sullivan, Doorco MD, commented: "Gripcore Technology is a unique matrix of cross laminated engineered timber and hardwood stiles and rails with pressed GRP skins, resulting in a door that will not crack, move or de-laminate.
"Safety and security have been built into Gripcore's DNA, delivering a stronger, heavier and more robust door. It is truly the most engineered door I have ever seen. In fact, we are so confident in the product and the engineering and investment behind it, we are offering a 10 year warranty on all Gripcore doors, with a further guarantee that the door will not move more than 3mm in its lifetime. Both will give installers and homeowners confidence for years to come.
"For existing Doorco customers, incorporating Gripcore into their portfolio will be easy as manufacturing requirements do not vary from Doorco's standard door product," continued Dan. "It will be available as a one size fits all 914mm blank. This means from one slab you can make all required door sizes which makes stocking Gripcore simple. There are both traditional and contemporary options like a woodgrain panelled door, Farmhouse, Flush, Monza II and LINKS. The Gripcore range will also include some bespoke glass and colour options.
"Gripcore is a truly exciting addition to the Doorco range. The composite door market is a competitive place and for us, it's all about innovating products which help our customers stand out from the crowd," said Dan. "Creating a solid core Doorco door was the next logical step for us and I was intrigued by the initial idea of using Doorco's collective experience to engineer out all the issues consumers face with the current market offering.
"Doorco is pushing the boundaries to create a hybrid of modern and traditional materials, resulting in a composite door slab that is stronger, more rigid and more stable than anything on the market. So far, our customers are delighted with the new product and we anticipate it being a real game-changer for Doorco and the composite door market as a whole," he concluded.