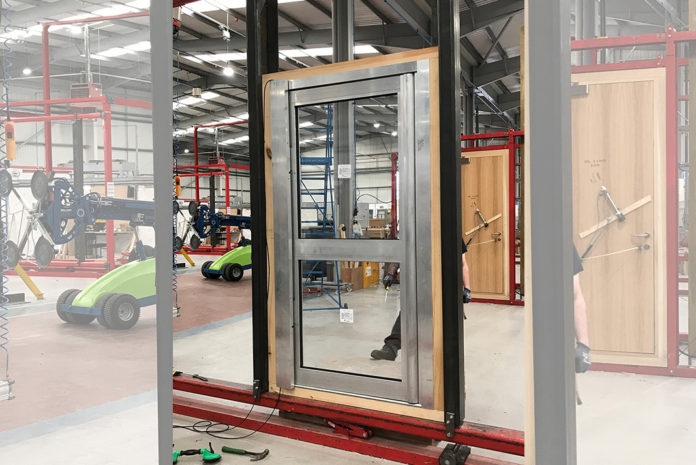 The TD68 thermal, commercial door from aluminium systems specialist, Jack Aluminium, has passed the STS202 test, reportedly making it one of the most secure aluminium commercial doors on the market.
Jeff Pearson, sales and marketing director at Jack Aluminium, said: "For a growing number of architects and specifiers, PAS24 accreditation isn't enough. There is real demand for an aluminium commercial door set that had passed the STS202 standard, and as we already had the robust, secure TD68 door, it made sense to continue pushing it.
"I'm thrilled to say it passed with flying colours," he continued. "The STS202 test is brutal and focuses on continuous attacks on the glazing and the beading as well as attacks on the locking systems with large jemmies. The great news for fabricators? There is no difference in the door fabrication process. No additional locks, no additional rebates, no additional design solutions were applied – it's the standard TD68 door.
"I'd like to say a big thank you to the team at RED Systems in Neston, who identified that this higher security standard was becoming more and more prevalent in the marketplace. Like us, they were fully confident that the TD68 system could cope with the rigours of this test. The test doors were fabricated by the expert services of Paul Evans Architectural in Leeds who as always did a superb job of manufacturing the TD68 door sets for the test."
Jeff added: "Input from our customers is so valuable to us to ensure that we are delivering the products they need. RED Systems supported us all the way through this process and their attendance at the various tests was instrumental in achieving the STS202 – BR2 level standard.
"STS202 is another important standard to add to the long list of accreditations that the TD68 holds. This door goes from strength to strength – it's the ideal solution on projects where higher security standards are being specified."