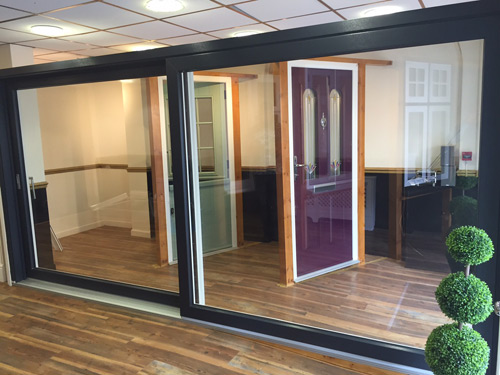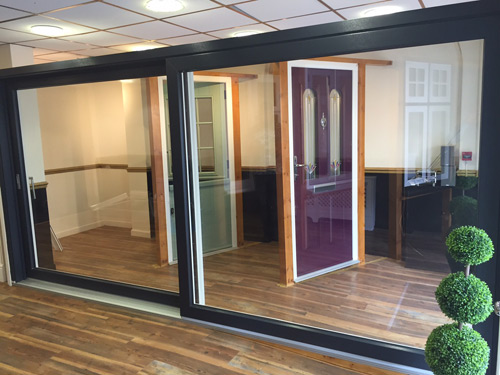 The UK's first showroom model of Kömmerling's lift and slide PremiDoor 88 has been installed by CWG Choices customer, Crown Tree Investments, at its Royale Regents 'high end' showroom in Leamington Spa.
Set amongst other premium home improvement products, the 4.3m wide x 2.1m high PremiDoor 88 takes centre stage, with an anthracite grey grained foil on white finish. The PremiDoor 88 is described as a 'genuine alternative' to bi-fold doors and one that is capable of spanning 6.5m with a height of 2.9m in just two sashes.
The PremiDoor 88 reportedly offers sound insulation values as high as 45db and has been tested by ift Rosenheim for its tightness against driving rain, achieving a rating of 750 Pa. Kömmerling believes that this is the best performing door of its kind in the UK market and there is also a new 'Lux' variant, which doesn't require a fixed sash. Instead, it features a fixed mullion and fixed glazing, fitted with aluminium glazing beads attached to the outside. The results are particularly slender sight lines of 95 mm in the side frame and true to its name, a greater passage of light.
Kevin Warner, head of sales and marketing for Kömmerling, commented: "The PremiDoor 88 sets the standard for doors in wide span applications and I fully expect this product to take market share from bi-folding doors. There's a wealth of colours and finishes to choose from, incredible technical performance and a greater passage of light."
Jason Wilder, co-director of CWG Choices concluded: "We're now actively promoting the PremiDoor 88 to our customers as we believe the design of the product and eight colour options from stock will attract further customers. While Crown Tree are the first to display the product, there is already considerable interest from both installation companies and style savvy consumers."