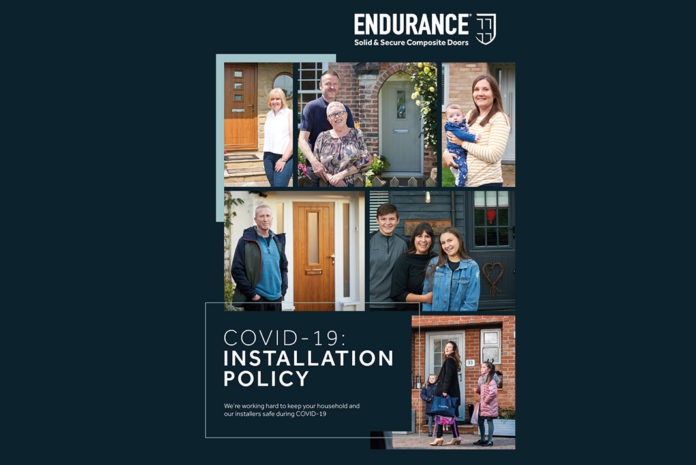 Composite door manufacturer, Endurance Doors, has published a COVID-19 installation guide which is aimed at both installers and homeowners.
The guide is said to be specific for the door sector and highlights the expectations and requirements from homeowners for 'a stress-free and safe installation'.
The general COVID-19 Installation guide from Endurance Doors is branded, but there is the opportunity to bespoke this with unique content, different colours and logos for all installer partners.
Endurance Doors returned to work on 4 May with a skeleton staff who were provided with the necessary PPE, along with detailed guidance as to the safest operating procedures and new company policies. These were put in place by senior management, including Ian Murgett, QHSE and continuous improvement manager and the site health and safety supervisor for Rocal Group.
Stephen Nadin, managing director of Endurance Doors, commented: "This new publication is important for us, our valued installation partners and the homeowners who have carefully decided that an Endurance Door is the best investment for them. It's important that as a diligent manufacturer, we communicate in what we are doing and the expectations of door installers, so that throughout the supply chain everyone is clear what has been done and what will be done.
"We're now back manufacturing doors, taking orders and delivering to our nationwide network of partners as of 12 May. The hope is that, as an industry, we work collectively to get things moving quickly and to establish a new normal."