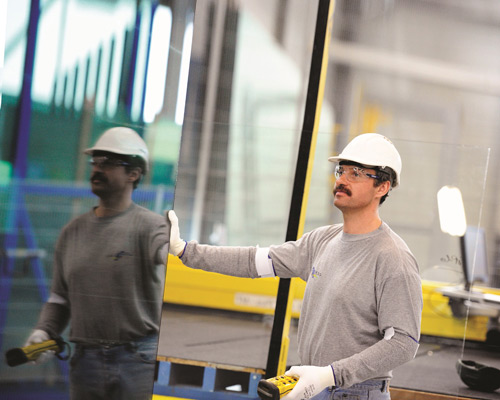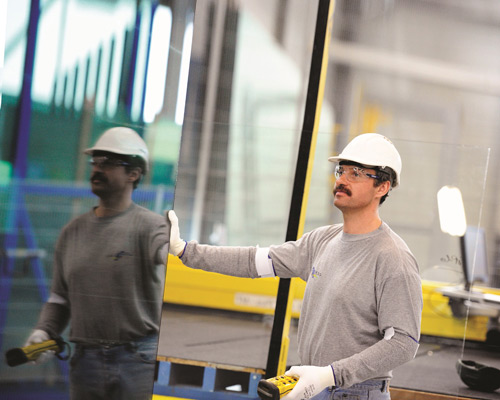 A 'revolutionary' new coating from Saint-Gobain Building Glass will reportedly enhance the method of glass processing by transforming coated glass into 'more durable and robust products at no extra cost'.
SGG EasyPro has reportedly been developed to enhance the robustness of Saint-Gobain's 'to be tempered' SGG Cool-Lite II products, which are primarily used to deliver high performance solar control.
Adrian Adams, facades market manager at Saint-Gobain Building Glass said: "Traditionally high performance glass coatings can sometimes be vulnerable to damage at numerous stages of the supply route such as during transport, unloading or whilst handling and processing. SGG EasyPro is a coating innovation that provides added protection to the SGG Cool-Lite II range during those critical stages. This added protection helps provide our customers with the confidence that our SGG Cool-Lite II range of products are more durable and robust with a coating that is unique to the UK market."
SGG EasyPro is able to protect the SGG Cool-Lite II solar control coating against issues such as mechanical damage and ageing up until the tempering phase of production. The SGG EasyPro coating remains on the glass and is simply burnt away during the actual tempering process, leaving behind a high quality SGG Cool-Lite II product as it exits the tempering furnace.
Adrian Adams continued: "SGG EasyPro helps increase product durability and productivity at no additional cost to our customers. The SGG EasyPro product also features a number of other benefits that can help reduce waste and enhance productivity with faster tempering cycle times.
"We are constantly innovating our products and services and exploring new ways to enhance our customer's experience. SGG EasyPro significantly improves the handling and processing abilities of our products to help provide our customers with greater confidence and value. We believe that the SGG EasyPro coating could ultimately revolutionise the way that glass coatings are produced and processed in the future."