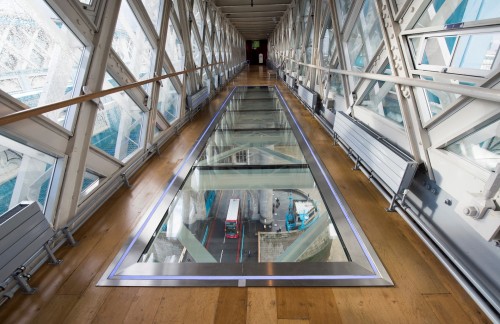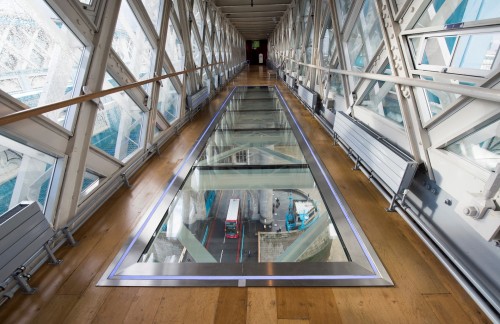 The technical capability and glass design expertise of Glassolutions has been recognised in the G15 awards, where it has been shortlisted in the Commercial Project of the Year category for its work at Tower Bridge.
Glassolutions designed and installed two glass floor walkways at the historic London landmark and tourist attraction, which has since seen visitor numbers increase by 34%. The specification of the glass included considering its durability and strength, privacy from viewers on the ground, wind loading, and the potential impact should a passing vessel strike the walkways as well as access issues.
Tower Bridge is owned by the Bridge House Estate and managed by the City of London. It was completed in 1892 and opened in 1894 by the Prince of Wales (later King Edward VII). Tower Bridge Exhibition tells the history of the bridge through animations and displays, across its towers, high-level panoramic walkways and the atmospheric Victorian Engine Rooms. However the only place that you couldn't view the bridge mechanism was from the walkways themselves.
Tower Bridge turned to Glassolutions to design, manufacture and install glass floors into the two high level walkways to create unique views and enhance the appeal of the historic, Grade I listed visitor attraction.
Durability and strength of the glass was key, so the existing floors were removed and a steel frame was installed into which the new 82mm thick glass floor panels, comprising seven layers of glass capable of withstanding the weight of six elephants, were inserted.
Mike Butterick, marketing director at Glassolutions said: "The project presented many technical challenges but our team rose to the challenge and their experience, knowledge and expertise ensured we delivered on every level. Tower Bridge were delighted with our work and we're proud that the project has been shortlisted in the G15 awards."
Winners will be announced at the awards ceremony on 27 November at the London Hilton on Park Lane.