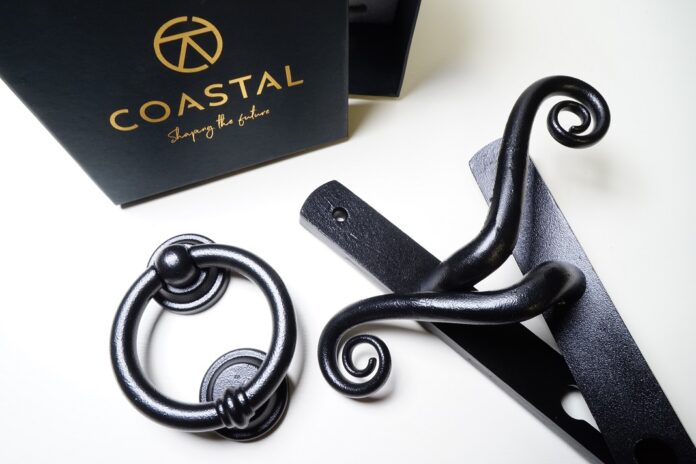 Coastal Group has added two products to its Duratique range: a ring door knocker and a curly tail door handle. The full Duratique black antique range includes door handles, centre door knobs, cylinder pulls, escutcheon and letter plates.
Designed and built in the UK, Duratique products are manufactured from stainless steel to prevent hardware failure. They use precision CNC-machined fixing points allow batch door production.
The CO7300C Duratique curly tail door handle
The Duratique curly tail door handle is black antique and suitable for multipoint door locks. It comes with euro profile cut out. The curly tail door handle is manufactured using a high-quality, dual-sprung mechanism and spindle. This ensures that the handle does not droop or rattle; it provides a positive action and returns the handle consistently to its original position. The handle has been durability tested to BS EN 12217:2003 – 200,000 Cycles.
The DKB225 Duratique ring door knocker
The ring door knocker features a striker plate. It also comes with bolt-through security fixings and secret fix option.
Traditional antique door furniture is made from malleable iron where, over time, the coating flakes off and the malleable iron base material begins to corrode, causing brown rust streaks to occur. Coastal makes its Duratique range using a stainless steel base material and applies a specialist top coat to ensure protection against corrosion, even in coastal locations.