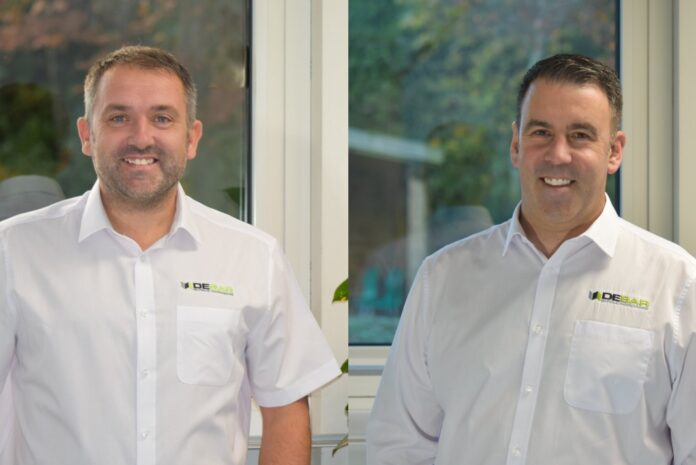 The bi-fold door hardware manufacturer Debar has promoted two key members of staff at its headquarters in Bradford. Andrew Fawthrop, a longstanding team member and one of Debar's first employees, is now the UK national sales manager, and Tim Shaw, a former technical sales manager, is now the firm's international sales manager.
Since joining the company more than 10 years ago, Andrew has been fundamental in helping to develop the Debar brand when the company first started, as well as looking after both the organisation's export customers, and customers in the north of England, the firm's representative explained. As Andrew has a wealth of knowledge and experience of the industry, he is said to be the perfect fit for the UK national sales manager role.
Andrew's new role is set to see him mentor and coach Debar's sales reps. Responsibilities are also to include presenting ideas, initiatives and opportunities to encourage the continuous development of the company for the benefit of its customers.
Tim, who formerly worked with customers in the south as technical sales manager, has been promoted to the role of international sales manager. He is responsible for developing relationships with all international partners as well as overseeing the rollout of international sales strategies.
Having worked at Debar for seven years, Tim is no stranger to the bi-fold market and understands the importance of keeping on top of industry developments. As international sales manager, Tim aims keep a close eye on worldwide trends, to drive growth in key target markets for the company in the future.
Peter Sutcliffe, managing director at Debar, said: "Both Andrew and Tim have shown an exceptional commitment to the business and have been instrumental in navigating our sales strategy during difficult times. We look forward to seeing how their experience will strengthen our sales team and international partners even further.
"Due to the current economic uncertainty, the next few years will be challenging. But with a clear vision and fantastic team on board we're sure to see positive growth as a company." For more information about this British manufacturing company, email sales@bifold-hardware.com or call 01274 673 547.