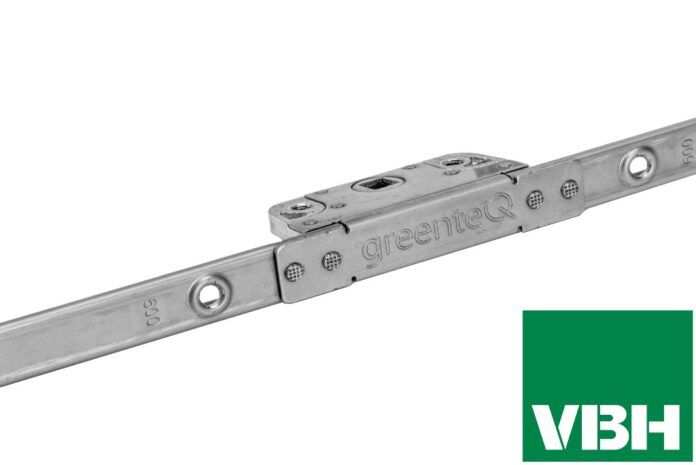 Leaders of VBH have announced a further addition to the hardware manufacturer's GreenteQ range of window locking systems. The Securitas Offset Twin Cam Security Espagnolette has been designed for use on slim aluminium casement window systems.
The product has a 16mm wide U-rail faceplate, so is marketed as being 'ideal for systems with no Eurogroove'. Pairs of bi-directional adjustable mushroom-headed cams provide compression and security when in the locked position. The cam pairs locate into both sides of a GreenteQ night vent striker plate to provide a strong connection.
Securitas Offset is available in nine sizes up to 1300mm, and has up to four pairs of cams depending on the length. This is to ensure even locking down the whole sash.
"We already offer a comprehensive range of GreenteQ locking systems for Eurogroove profiles," explained said Dan Powell, VBH's head of brand. "Securitas Offset will satisfy those fabricators who wish to benefit from GreenteQ hardware on their non-Eurogroove systems but have been unable to until now."
As well as being very quick to fit, the VBH team advises that Securitas Offset is approved for use on Q-secure Premium installations, offering consumers the peace of mind that the popular hardware security guarantee brings. The stainless steel U-channel and mushroom cams are very durable, and are covered by the GreenteQ 10-year performance guarantee, the firm's reprresentative added.
To find out more about Securitas Offset, or any other hardware in the VBH range, call 01634 263 263 or email sales@vbhgb.com, Alternatively, interact with the following Twitter/X handle: @vbhgb. Click here to read our coverage about the GreenteQ catalogue.