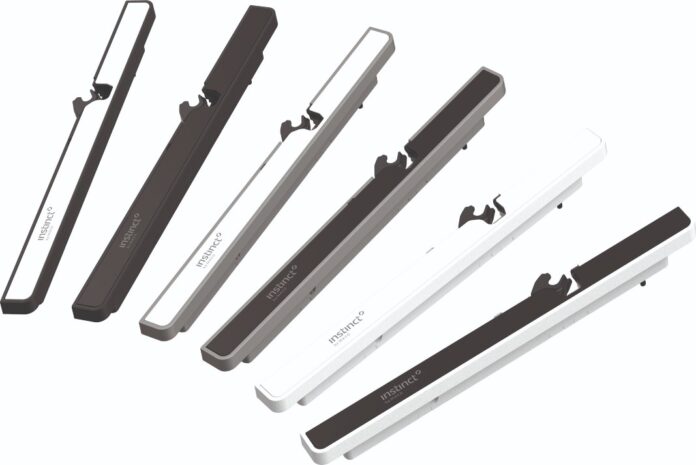 Representatives of the hardware solutions provider Maco are to offer UK industry leaders the opportunity to experience the firm's new Instinct product, as its roadshow comes to the UK in May. The Maco Innovation Tour began last September, and will end this summer.
In contrast to conventional door locks, the Instinct locking mechanism's 'Horsehead' locks in the direction of the door movement and is rotated by 90°, gliding around the striker. This generates high contact and sealing pressure, according to its manufacturer.
'For the first time, a door lock is not only reduced to its closing function but also becomes a design element itself due to its high-quality appearance,' according to Maco leaders. Ahead of the product's launch, Maco's team analysed market needs and target groups, determining key design values such as functionality and simplicity, representatives of the business have said. The designers then implemented a variety of designs, with the goal of creating a product that was both aesthetically pleasing and functional.
How is Instinct opened?
Instinct is marketed as a locking system that can be combined with any opening solution. Proven access solutions such as fingerprints, keypads or transponders are easy to integrate into the system, according to the manufacturer, and all available from Maco. The firm has also developed its own, purpose-built app called 'Instinct by Maco'.
Testing and performance
Maco's team worked closely with the ift Rosenheim testing facility to develop the Innovative Instinct by Maco Solution. Instinct went through an extensive testing programme, achieving 200,000 cycles according to EN 14846 or EN 1191. Burglary and tightness tests were carried out.
"As an enthusiastic skier, I like to see the development from locking cylinder to Instinct the same as from a once long, heavy wooden ski to short, ultra-light carving or touring skis – but without decades of development between both types of skis," said Christian Keher, head of ift Rosenheim Certification. "Instinct is a truly new technology that will change the design and use of doors. The pre-requisite however, is independent testing of security."