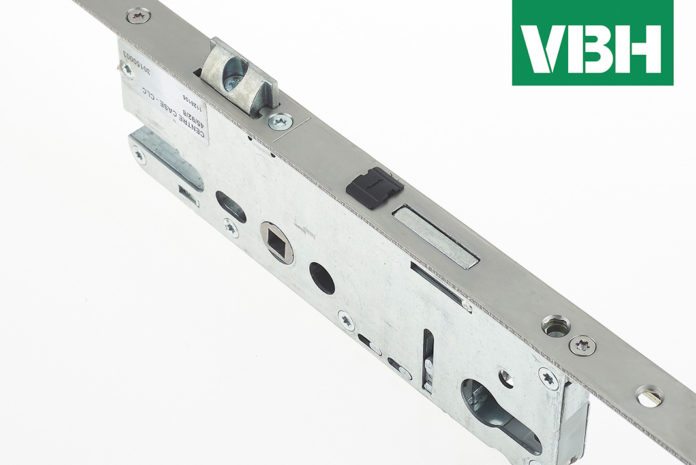 VBH is a supplier of a wide range of multi-point door locks, including Yale's AutoEngage slam shut product. 'Slam Shut' style door locks are becoming increasingly popular on composite or wooden entrance doors where fixed pull handles, knobs or finger pulls are preferred to lever handles.
When the door leaf is closed (or slammed) into the frame, the automatic lock mechanism instantly triggers the security latches, which engage into the striker plates. This negates the need to lift a lever to throw the locking points prior to dead-locking through the key.
The door is opened by turning the key, which retracts the latches and central deadbolt.
AutoEngage's locking action is designed to allow greater flexibility in door design whether on traditionally styled doors where a knob might be used, or on modern, contemporary styles that lend themselves to the clean lines of stainless steel pull handles, such as those of the greenteQ Coastline range.
The locks are available with a choice 35 or 45mm backsets and a range of 16 or 20mm faceplates, including a 20mm radiused end version.
VBH marketing manager, Gary Gleeson, said: "As well as the AutoEngage Classic, with its main lockcase at 'normal' waist height, manufacturers can also opt for the Heritage version that has a high level lockcase to replicate the position of traditional rim latches."
AutoEngage locks are all PAS24:2016 compliant and are approved under VBH's Q-secure multi-brand guarantee.
Gary added: "Yale is one of our respected third party brand partners with a great pedigree, and their products complement our own greenteQ range. In this instance, AutoEngage works perfectly with the greenteQ selection of stainless steel pull handles, cylinder escutcheons and cylinder pulls in six colours."