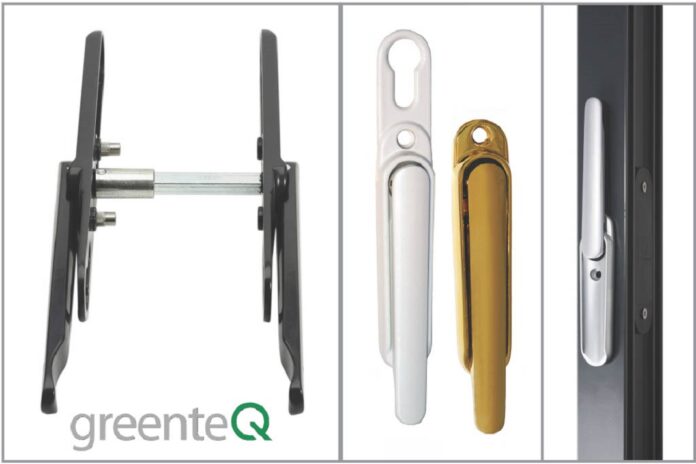 VBH has expanded its range of bi-fold door handles with a new addition to its GreenteQ SlimFold range. The new internal/external handle set provides customers with the option to operate intermediate door locks from both the inside and outside, according to representatives of the hardware manufacturer. The handle accepts a Euro profile cylinder for security.
As with the existing internal-only SlimFold options, which are available with and without the provision of a cylinder hole, the new handle set stands just 17mm off the face of the door when inactive, VBH's representatives have said. The lever 'nestles' into the base plate when not in use, allowing the sashes to stack closely together when fully open. SlimFold is available in up to six colours of the GreenteQ Suite to 'perfectly complement' aluminium bi-fold door finishes.
"The GreenteQ Suite is our very popular range of patio door, residential door and window furniture that is available in matching colours and styling to tie in a full house installation," said Dan Powell, head of sales at VBH. "We're very pleased to have added this handle option to the suite in time for the spring bi-fold boom."
The handles feature lift_and-turn technology. To open the door, the user can simply push in the top of the lever to raise the bottom of the handle from its nest, and then turn the handle to unlock the door. SlimFold handles are approved for use on Q-secure installations and all colours, including plated handles, are covered by the 10-year function and surface guarantee.
Dan added: "It's important that our standard 10-year surface guarantee covers all finishes, so our customers and their customers can be in no doubt about what is covered. GreenteQ's six-layer surface treatment gives us the confidence to guarantee all suite finishes for a decade. Our GreenteQ design team has been busy and we hope to have some more exciting new additions for PVC-U and aluminium customers in the spring."