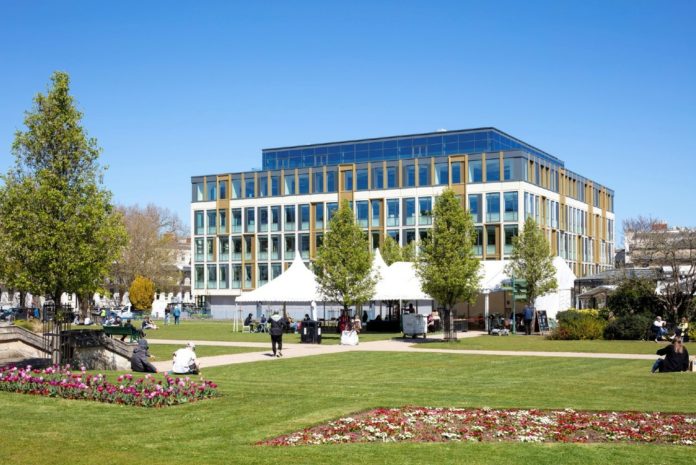 The Swindon-based construction firm Beard has finished redeveloping the Quadrangle building, which includes Cheltenham's first-ever rooftop restaurant. The project's windows were supplied by EYG Glazing Solutions, Hull, which fitted AluK products that provided U-values of up to 0.18wm²k, and were designed to meet BREEAM's 'View out' criteria.
The Quadrangle, which sits on the corner of Cheltenham's Imperial Square and Promenade, has been sensitively reimagined to create contemporary commercial space with heritage at its heart, the projects organisers say. The building now includes four storeys of premium office space, aimed at meeting the needs of the town's business community.
Along with ground floor retail and restaurant space, the exciting addition of a discreet rooftop restaurant aims to offer diners spectacular views across the treetops of Montpellier. The rooftop restaurant is a first for the Gloucestershire town and is the crowning achievement of the multi-million-pound refurbishment project.
Jamie Harwood, director of Beard Swindon, said: "It is a privilege to work on such a prominent local building, whose transformation is being so enthusiastically received. Beyond providing much-needed workspace and leisure facilities, it is an iconic building, and by virtue of its location, has a wider significance to the town's residents.
"The redevelopment has modernised the building, while remaining faithful to the building's heritage, and the team has done a great job ensuring the build has been completed against the backdrop of the pandemic. As a family-run construction firm, Beard has always believed in the importance of inspiring spaces, whether that's for learning, working or leisure. The redevelopment of the Quadrangle will certainly inspire and we look forward to seeing businesses thriving in the new space."
Environmental design considerations relating to the project include solar panels on the roof, the replacement of all 400 windows and the addition of feature surrounds, which incorporate a choice of naturally ventilated or fully air-conditioned space. "The transformation of the Quadrangle has been spectacular," said Kevin Seville, head of property at the pension fund which owns the building. "Despite the challenges of the pandemic, the Beard team have delivered a project that is an exciting addition to Cheltenham. A real team effort, as part of a wider project team, they realised the design from AWW Architects, creating a vibrant work and social space that's set to become a 'must-visit' destination in the town."