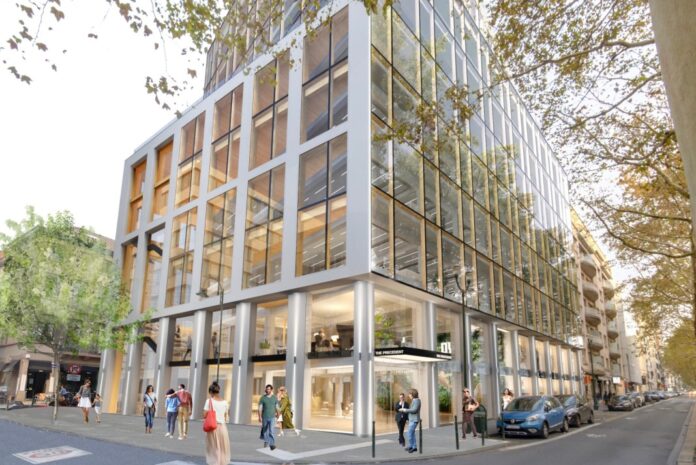 The Eyrise dynamic glazing team has provided solar shading glass façades for the Precedent office building in central Brussels. A sustainable reshaping of the existing building is currently underway, with all activity designed to meet the gold level of the international WELL Building Standard certification, a performance-based system measuring features of the built environment that support and advance human health and wellbeing.
The new external facades are cross-laminated timber structures consisting of dynamic liquid crystal glazing. Eyrise has provided 1,160 m² of s350 glass panels, allowing the maximum amount of daylight to enter the building while increasing connectivity with the tree-lined environment outside. Proprietary Licrivision liquid crystal technology enables Eyrise glass to be tinted to provide instant solar shading without compromising on natural daylight.
The windows are set to create visual comfort, thermal regulation and colour neutrality for workers while also helping to reduce energy consumption, as the building will require less air conditioning and lighting. Architect firm Yugening Architecture is leading the project, working alongside developer and building owner Union Investment.
"The Precedent intends to set new wellbeing standards for modern office blocks," said Véronique Orens, a founding partner of Yugening Architecture. "The Eyrise smart glass is a cornerstone of this vision, providing innovative façade design to support a healthy architectural approach. Formerly called Le Président, the building has been renamed in line with how we hope it will stand apart from conventional building projects."
Originally comprising seven storeys, the total floor space is set to increase by 25% following the renovation, which will be completed in 2023. "Putting people and the environment first is underpinning every aspect of the renovation," said Celine Glipa, CEO of Eyrise. "Alongside other sustainable building techniques, Eyrise glass is contributing to the achievement of the overall WELL Building Standard score which will enable The Precedent to meet requirements of future discerning tenants."