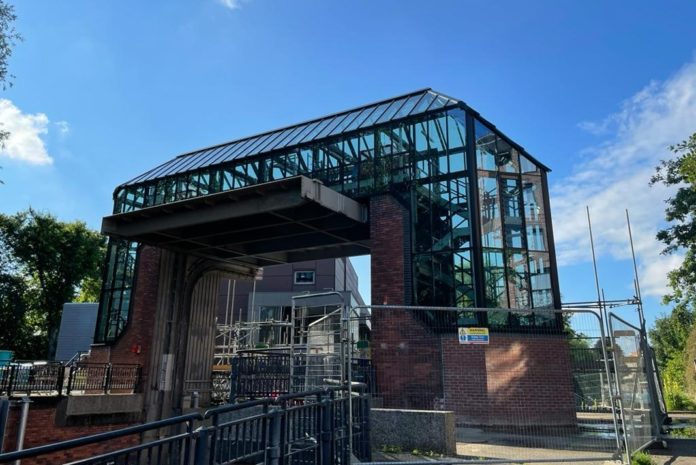 Howells Patent Glazing has supplied a new glazed roof for the Foss Barrier bridge, a floodgate that straddles the River Foss, in York. The project was part of a multi-million-pound improvement scheme to upgrade the Foss Barrier, to achieve better flood protection for homes and businesses after the severe flooding of December 2015.
The Environment Agency appointed JBA Bentley – an integrated design and build contractor combining national contractor JN Bentley with environmental engineering specialist Jeremy Benn Associates – as main contractor, and CH2M (now Jacobs) as designer for the upgrade. The upgrade was to replace the 1980s gate and its mechanical parts, along with access and architectural features. Planning permission was granted on replacing like for like against the original structure.
Glazed structure
The Foss Barrier gate is raised and lowered on steel wire ropes, which are wound onto drums at either end of the glazed bridge connecting the two side towers. The size of the towers and the bridge were increased, to accommodate new lifting equipment and to replace the access ladders with a staircase.
JBA Bentley appointed patent glazing specialist Howells to supply and install new and replacement glazing for the extended bridge. The Black Country-based business was a new supplier to the main contractor, and was sourced from market.
Self-supported glazing bar
Having overcome many awkward design issues, Howells manufactured the roof and vertical patent glazing using its HG2 and HG3 self-supported glazing bars, single glazed with special laminated glass. The bars were polyester powder coated for durability.
Howells also designed and manufactured four adjustable louvres within the vertical glazing. These were a direct replacement of what was previously there, for the purpose of ventilation. The patent glazing was fitted to a new steel framework within the structure.
Challenging design and fit
"The greatest challenge was setting out and making sure that everything aligned once it was installed, given we were working with an existing structure," said Richard Timson, site manager from JBA Bentley. "We also had to ensure that the bridge, in its new operation, had no flex, which would impact the glazing. This was a factor which would not be truly understood until it was put into service.
"Working with Howells was a very positive experience. They did exactly what they said they would. And, given the complexity of the structure and its location, health and safety was good. Overall, we're very impressed, especially as JBA Bentley and Howells had not worked together previously."
Upgrade complete
Improvement work to the barrier gate was finished earlier this summer. The pumping capacity has increased, rising 30 cubic metres of water a second to 50 cubic metres of water a second. Mechanical and electrical operating equipment has been replaced. The new 28ft-tall flood gate was lifted into place in January 2021.