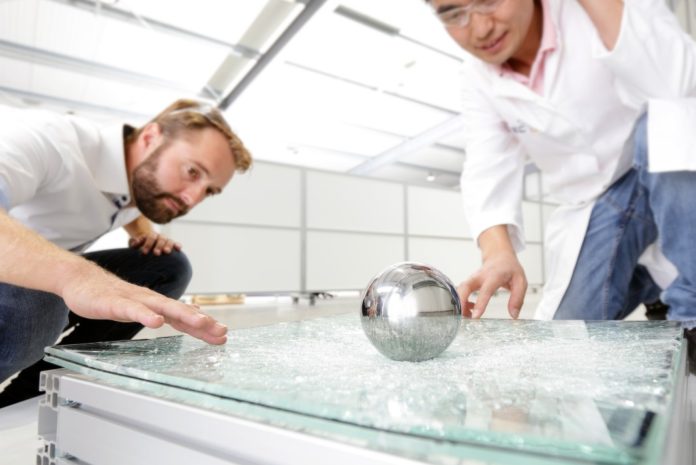 HB Fuller/Kommerling has built a new technology centre in Bexbach, south-west Germany, to support its continuing programme of development for liquid lamination technology. The new liquid, optically clear adhesives (LOCA) centre has been established as part of a strategic alliance with process specialists, TTEC.
Chris Davis, composites manager for HB Fuller/Kommerling, said: "The continuing development of a range of LOCA products holds the key to delivering new technology in the growing genre, termed 'function in glass'. This is generally a laminated glass that encapsulates active or dynamic components between glass leaves, contributing to improvements in occupier wellbeing, security and safety.
"For example, the added features may enhance the optical or thermal performance of a building. There is clear evidence that intelligent buildings are becoming a reality and this is leading to increasingly more complex laminated glass composites and IG specifications, the development of which can be supported by this new technology centre." The initial focus of the research and development work is innovation for the construction and automotive industries.
"At the new LOCA Technology Centre, we can not only demonstrate our LOCA solutions and their processing to potential customers but also work with them on the complete end-product development, including the associated manufacturing concept – right through to scaled up production concepts," added Dr Christian Scherer, HB Fuller/ Kommerling's head of business development manager glass. "The product qualities achieved with the team at TTEC are outstanding and inspire both us and our customers."
Decades of experience
With its Ködiguard, Ködilan, Ködiphone and Köraclear product lines, HB Fuller/Kommerling offers a range of liquid lamination materials for producing transparent composite materials. In addition to laminated glass, these can also be used to produce laminates made of plastic/glass and plastic/plastic. In contrast to foils, which are a thermoplastic inter layer, liquid optical clear adhesives form a chemical bond with the surface. The curing process is passive and does not require the high temperatures and pressure synonymous with a laminating process using foils and an autoclave process.
Thanks to the LOCA production method, laminates can also be equipped with integrated functionalities. For example, sensitive electronic components can be integrated into the intermediate layer, allowing the production of dynamic glazing like media façades with LEDs.