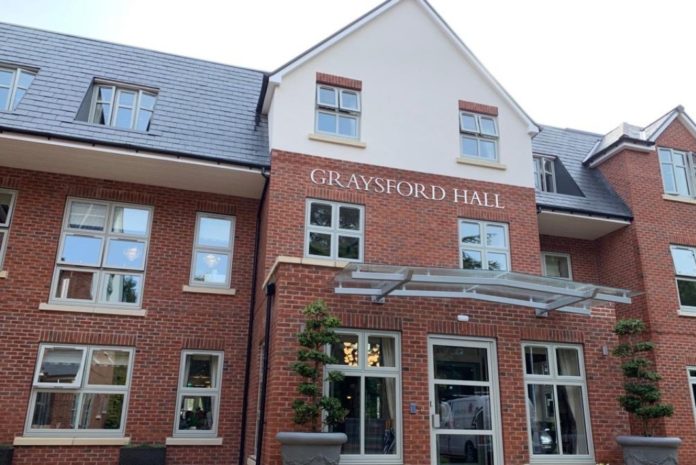 The Residence Collection's R7 windows and doors were supplied by manufacturing partner Frametrade and installed by The Nottingham Window Company at Graysford Hall, a luxury care home in the suburbs of Leicester. The project involved the installation of 130 R7 windows and 30 R7 doors with a Painswick exterior and a clean Chalk White internal finish. Both top and side hung windows with opening restrictors featured throughout, along with open in and open out doors, featuring a sash mullion for architectural detailing.
R7 was specified on the project for its premium finish, energy efficiency credentials and enhanced security, says the Residence Collection. Glass specifications were double glazed units with 6.8mm laminated glass, warm edge spacer bar and argon gas, along with Kenrick hardware.
Ian Newcombe, sales and marketing director of both Frametrade and The Nottingham Window Company said: 'The client was in firm agreement that R7 would be the perfect window and door solution for the Graysford Hall project with a flush finish inside and out. The overall window and door designs look premium, reflecting the performance of these products. We're thrilled with the end result.'
Sarah Hitchings, sales and marketing director of The Residence Collection added: 'Most people think of The Residence Collection as a purely retail-orientated brand. In fact, our product specifications are perfectly suited to the commercial market. R7 is the perfect choice and, with seven chambers and seven different substrates, it's a product platform, packed with unique features.'
Find out more about Frametrade at www.frametrade.co.uk. For further information about The Residence Collection, visit www.residencecollectiontrade.co.uk. Request a free brochure pack by emailing trade@residencecollection.co.uk or by calling 01452 348 650.