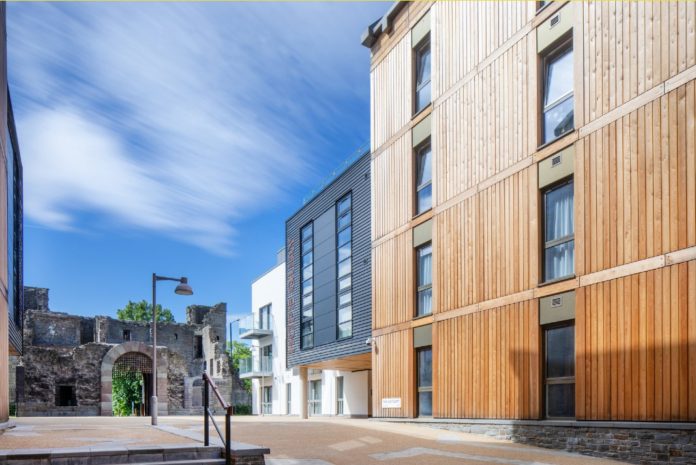 Aluminium windows, doors and curtain wall systems from Senior Architectural Systems have been used to create a modern and efficient fenestration package for a new residential development in the heart of Bristol's historical harbourside. The second phase of the Wapping Wharf regeneration project comprises of two, stunning residential buildings, Abel Yard and Hope Quay, alongside four new retail units.
Senior worked closely with its long-term supply chain partner, Elite Aluminium Systems, to design a fenestration package that would meet the specific needs of the waterside development, which includes Senior's low maintenance SPW600 aluminium windows and doors. Senior's high-performance SF52 aluminium curtain wall system also features throughout the scheme, to maximise natural light, with the company's safe and secure SPW501 aluminium commercial doors, specified as panic doors with crash bars for the emergency exits.
Large window apertures were created using a combination of fixed-light and tilt-and-turn SPW600 aluminium windows, framing the picturesque views of the harbour and surrounding areas. The light and airy apartments also benefit from Senior's inward-opening SPW600 aluminium doors, which have been installed to provide ventilation and to open up the living space further, with access to either full or Juliet-style balconies.
The durable aluminium construction of Senior's glazing systems makes them suited for use on coastal and waterside buildings. The fenestration package complements the wharf-style design of the buildings, which feature an attractive mix of brick, stone and iron materials.
Developed by Umberslade and Muse Developments in a joint venture, the building was constructed by Balfour Beatty and designed by award-winning Alec French Architects. The development pays homage to the rich history of the area by incorporating a restored, early-19th-Century, Grade II-listed gaol gate, as a feature entrance.
For more information about Senior and its systems, visit www.seniorarchitecturalsystems.co.uk. Alternatively, you can find the business on social media (Twitter, LinkedIn and Facebook) by searching for Senior Architectural Systems.