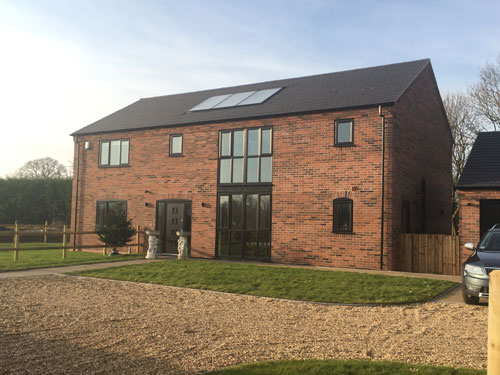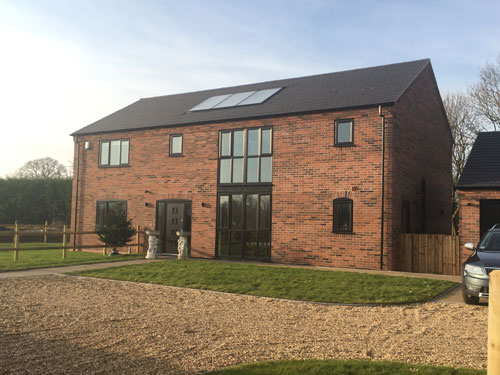 West Midlands based Swish fabricator, Stedek, says it has continued to make impressive gains in the new build housing market by supplying the windows and doors for an upmarket development of barn conversions and five bedroom, four bathroom luxury homes.
The mixed development at Lower Lanes Meadow in Seisdon, South Staffordshire required an unusual mix of window and door sizes and styles, the windows manufactured using the Swish system which Stedek has been fabricating since 2014. Stedek supplied all of the windows and French doors in the Swish 247 system with 6.8 laminated and toughened glass units installed where appropriate. All other window frames were fitted with A rated glass units. Document Q-compliant residential doors were by Solidor.
Lower Lanes Meadow is a milestone for Stedek as the company set out to broaden its customer base into sectors including prestige developments in which the company works closely with the housebuilder to develop specifications and styles. "This development was a wonderful opportunity for us as the nature of the properties demanded only the highest specification windows and doors, something that we thrive on," explained Richard Hammond, Stedek's sales director. "We have a deep understanding of window and door styles and performance and are able to advise the designers to ensure they and their clients get the very best for the homes. During building we produce the windows and doors to a tight schedule and install to the tightest schedules to secure the properties as they become ready.
"We have been thriving on the popularity of the Swish brand and have been growing month on month, and year on year. Swish is an instantly recognisable name and that brand recognition has undoubtedly been a big plus for us, especially when we've been at the tender stage for new contracts. It's really helped to open doors, so to speak. Plus, the support we receive from Swish has helped us to achieve the accreditations we need, including the CMS Gold Mark standard PAS24 2012.
"We can manufacture, supply and install our windows, entrance and French doors dependent upon our customers' requirements – we're a one stop shop – so it's this no-no-nonsense and effective approach to the new build market that has also been a key driver behind our initial success," continued Richard. "Builders love the simplicity of our approach, our honesty and integrity, plus the fact that we're always there at the end of a phone.
"Thanks to a positive start in the new build sector, that has seen us manufacture and supply products for developments with build values running well into millions of pounds, we have since grown in confidence and reputation and are securing further business as a result."