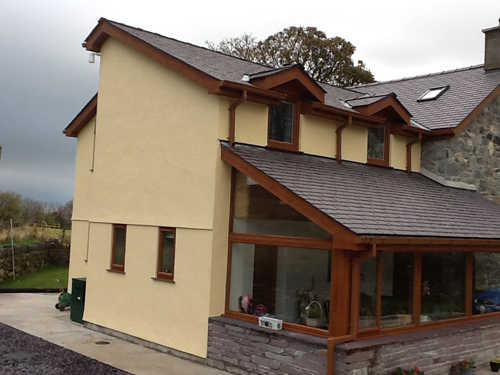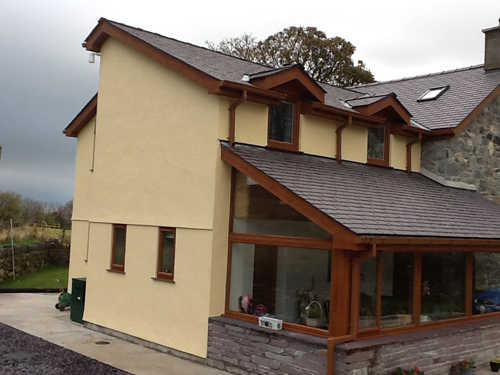 Products from the FrameXpress range have been used in the renovation and extension of a property located in the heart of the Welsh countryside, which reportedly required the best in thermal efficiency, sound insulation and weather tightness.
Located in a beautiful but slightly exposed area, the property is prone to batterings from storms during the harsher winter months and the FS70mm system was said to offer 'the perfect solution' for sound and thermal insulation.
With a 'vast' choice of colour available in the FrameXpress portfolio, casement windows and doors were manufactured in a light oak finish, both internally and externally, to complement the original style of the property.
To make optimum use of light and easy maintenance, the homeowners chose tilt and turn windows for the upper half of the house, which also provided them with a fire escape option.
A light oak composite door was manufactured to complement the overall finished appearance of the house, also providing 'complete peace of mind' regarding security and weather resistance, according to FrameXpress.
Karen Gardner, sales manager at FrameXpress, said: "Our broad range of colours, combined with quality assurance, continues to reinforce guarantees and standards, which gives our customers confidence in the range. Consumers are inspired to invest as we add value as well as peace of mind.
"Although the market is more buoyant, it can still be tough out there for everyone. High specification projects are increasing, as is the pressure to provide products that will meet or exceed consumer demand.
"Giving customers more choice with reliable support services is important to everyone at FrameXpress, and this is reflected in the long standing business relationships that we have developed over the years."