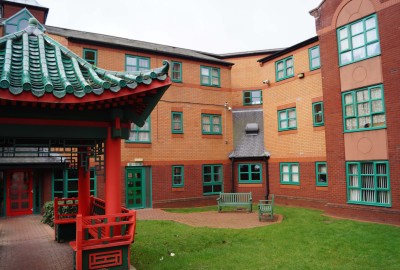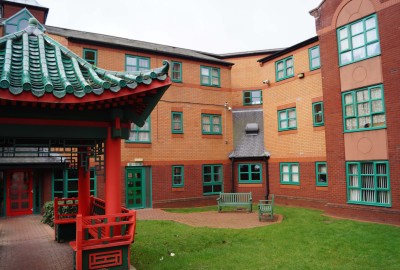 In one of its more unusual – and colourful – projects, Liverpool based Total Glass supplied red and green replacement windows and entrance doors for a major social housing refurbishment project in the city's Chinatown district.
The PVC-U window and door fabricator was engaged by Pine Court Housing Association as part of a £250,000 investment programme in properties at Pine Mews. The installation work, which included Chung Hok House sheltered accommodation scheme, was carried out by the HA's Group partners, Sovini Property Services.
Red and green are considered auspicious colours in Chinese culture, so a key aspect of the specification was to match the buildings' existing colour scheme. Total Glass supplied 'A' rated energy-efficient PVC-U windows finished in pine green RAL 6000 to replace the original timber ones.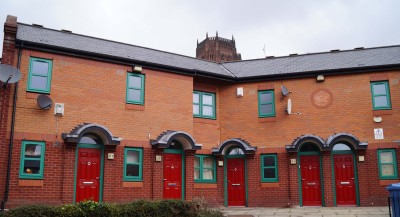 New final exit doors, which replaced old wooden ones at Chung Hok House, were also supplied in the same shade of green. The Total Glass Powerframe high-security aluminium communal entrance door in traffic red RAL 3020 was specified for the main entrance and fitted within a green doorset to match the windows.
Around the courtyard, a total of 14 flats and 13 houses were also similarly upgraded with red GRP composite doors and green outer-frames complementing the windows.
Total Glass said it liaised closely with Pine Court and One Vision Housing, also part of the Sovini Group, on the project, which used translators to inform tenants at all stages and facilitate their participation during the works.
"Pre-contract consultations with tenants and surveys were carried out, along with pilot installations to ensure that the colour specifications and designs were all correct," explained Total Glass' commercial contracts manager, Mark Formby.
David Brown, Pine Court's director of operations, said: "We're really pleased with the work that's been undertaken. Disruption for customers has been kept to a minimum and the new installations look very professional."