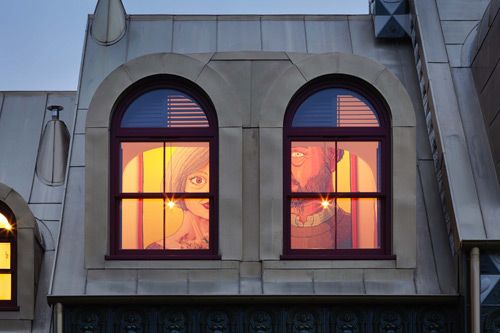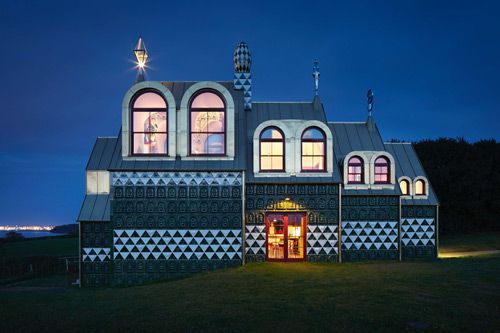 Traditional timber sliding sash windows, casements and French doorsets from the Conservation range by Mumford & Wood have been specified in 'A House for Essex' located in Wrabness, close to the Essex coast, as part of Alain de Botton's series of rentable holiday homes.
A collaboration between award-wining practice, FAT Architecture and Chelmsford born contemporary artist, Grayson Perry, the building has been described as a 'ceramic-clad gingerbread temple' which lists stave churches, arts and crafts houses and English baroque architecture among its influences.
Embracing decoration, ornament and symbolism as part of its aim to tell 'a rich and complex story', the interior features a number of Perry's handmade ceramic pots and tapestries depicting the fictional life of 'Julie' who he describes as an 'Essex Everywoman'.
Visitors pass through a series of 'unfolding spaces' before entering the chapel, which features a ceramic statue of Julie, framed by a 'striking decorative object', part medieval rood screen, part baroque facade. Upstairs the two bedrooms lead to internal balconies overlooking the chapel space. The exterior is clad in more than 1,900 green and white ceramic tiles, cast from originals made by Perry.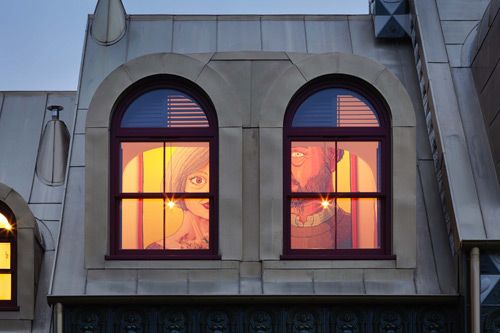 The made-to-order timber Conservation products feature Victorian-style sash windows, with spring balance operation, which are adorned with fixed curved semi-circular fanlights to emphasise height and magnitude. Coordinating Conservation casement windows and doors feature a contemporary-style moulding. All products have been finished in purple red, RAL 3004, with a single doorset supplied in yellow. Triangular casements were also designed and manufactured by Mumford & Wood. The sliding sash windows are positioned in the gold roof, in pairs of diminishing size, running from front to back of the house.
"These windows and doors are truly glorious but we were surprised when the contractor, Rose Builders, showed us the drawings," said Frank Buckley, managing director, Mumford & Wood. "Not that design of a bespoke nature is anything new to us, this is where our technical design and manufacturing methods excel; it was more the unexpected colours of purple red and yellow which was colour matched to Little Green Trumpet. This project makes a grand and striking statement and an unusual alternative to today's trend of white, off-white and heritage colours such as pale grey and duck egg blue and natural stain finishes. This property is rather like a fairy story; a true work of fiction."
A House for Essex will be available to rent on a short-term holiday basis and can sleep up to four people in two bedrooms. Slots are allocated by public ballot, which opened in May '15.