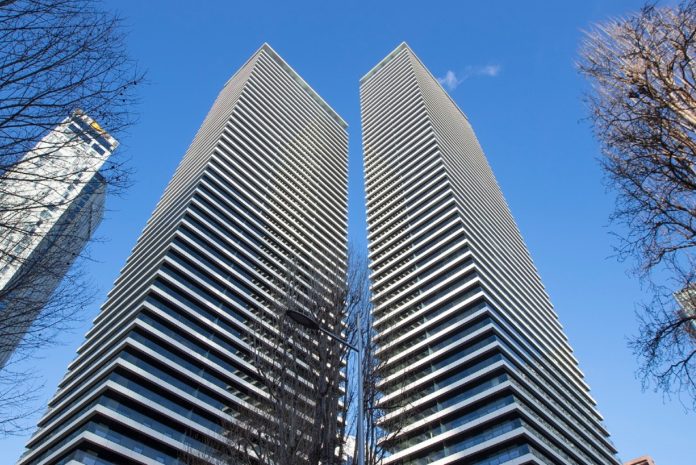 Wicona glazing systems was chosen to supply window and door systems for the Wardian development, in London's Docklands. Inspired by Dr Nathaniel Bagshaw Ward's 19th-century Wardian case, which botanists used to transport plant specimens around the world, the Wardian is described as a landmark in sustainable development for the 21st century.
A spokesperson for Glenn Howells Architects, which was responsible for the concept, design and much of the interior work, said: "We worked closely with [the Czech-Republic-based façade contractor] Sipral to get the glazing specification just right, and to meet the requirements for solar gains, while we also had a lot of work to do addressing acoustics. On the lower levels facing the DLR, we have a secondary layer of glazing and a good part of the elevation facing City Airport has acoustic glazing."
Specified in relation to their position on the two towers' elevations, the Wicona window and door systems installed by Sipral deliver either a 35 dB or 41 dB sound reduction: achieved both by careful detailing of the frames and the use of acoustic glass. The majority of the fenestration offers a U-value of 1.0 W/m² K, including for the back painted spandrel units produced.
Both the apartments and the penthouses feature Wicline 90SG windows with more than 1,000 units being installed across the two buildings. Sipral's contract also included the installation of 3,525m² of curtain wall, incorporating more than 50 bespoke elements such as cover caps.
The Wicline system offers both aesthetic flexibility and a high level of functionality, allowing the specifier to optimise energy performance, acoustic insulation and security. Like the other Wicona systems, it is compatible with the Wictec façade options which extend from the classic stick assemblies to unitised and even structural glazed elevations. Compliant with the EN13830 standard for curtain walling, Wictec is fully tested for weather resistance and fire performance, and is readily adaptable to almost any architectural style, thanks to the availability of diverse profile types.
Tim Rook, a project designer for Wicona, added: "Wardian was a challenging project, due to acoustic and other technical requirements, requiring a bespoke, unitised solution. Delivered by our customer, Sipral, this incorporates Wicline 75 balcony doors, Wicline 90SG windows and Wicslide 150PS sliding door, while the unitised façade itself features 54 new profile creations." Wicona is part of the Hydro Group, a world leader in aluminium solutions.
The Wardian development, by EcoWorld Ballymore, comprises 50 and 55 storey residential towers, containing 768 one- and two-bedroom flats, as well as penthouse suites, with views of Canary Wharf and a podium housing a private screening room, restaurant and retail units. Glenn Howells Architects was responsible for the concept and design, as well as much of the interior work. Wicona's Wicline 75 doors, bespoke Wicslide 150PS sliding glazing and Wicline 90SG windows, all integrated into the custom unitised façade solution, was taken by Sipral.
Controlling solar gain and avoiding reliance on air conditioning has been a key principal in Wardian's design ethos. Therefore, as well as installing roof gardens with mature trees to temper incoming air, the towers' design makes impressive use of passive measures to protect the living spaces from solar gain. A Glenn Howells Architects spokesperson said: "The project drew inspiration from botanical roots and Nathaniel Bagshaw Ward's Wardian cases, but sustainability was also a key factor. Wardian has been designed to reduce solar gain through the use of projecting terraces, giving a 42% cooling load reduction in comparison to towers with less shaded façades, which is projected to rise to 55% saving by 2050 as temperatures rise.
"Rather than rely on air conditioning, Wardian's sky gardens cool incoming air as well as providing every home with generous shaded amenity. The greenery also contributes to air quality, as well as creating an environment that is relaxing and enjoyable to use."