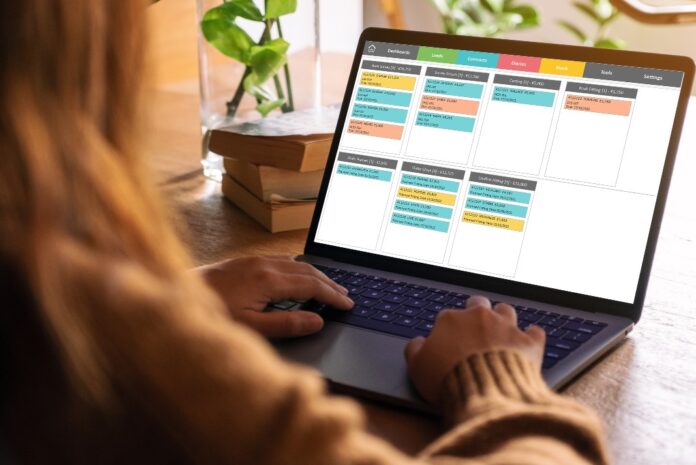 Representatives of the installer management system Adminbase, are returning to the Fit Show this year with free demonstrations of the software's new features, on Stand J41. The move is aimed at helping installation businesses achieve better productivity and profitability. Adminbase was created by a team from the software business, Ab Initio.
"The recently launched AdminBase taskboard feature will be one of the newer aspects available to see at the show," explained Rhonda Ridge, managing director of Ab Initio. "With this feature, installation businesses can see how they can effortlessly keep track of entire projects, and better manage how work is distributed among teams.
"At last year's show we launched our partnership with Pricepoint, which has proved immensely popular. The Pricepoint team will be attending the show on the AdminBase stand to answer any questions on the sales app specifcally, but our own friendly team will also be on hand to talk visitors through our award-winning Customer Portal, a facility to collect digital signatures, and the ease and flexibility of AdminBase as a CRM for installation businesses overall.
"Adminbase is an installer management system created by people with experience in the field, which is why it proves so popular with installation businesses of all shapes and sizes. We know from experience this means our team will be busy giving demos throughout the show, so we are recommending that visitors book a time beforehand to secure their slot and avoid disappointment. Our one-to-one demos will include a personal walk through of AdminBase which, for existing customers, might be a demonstration of a new feature. For new customers, we can demo the whole system.
"All visitors will be able to see the entirety of the CRM in action via videos that will be running constantly on the stand. In addition to running through the existing system, including our recent additions, there will be another new launch happening live at the Fit Show. We're not revealing anything about it beforehand but what we can say is that it's an extension of one of the AdminBase apps that will make a big difference to window installation businesses and companies further afield."