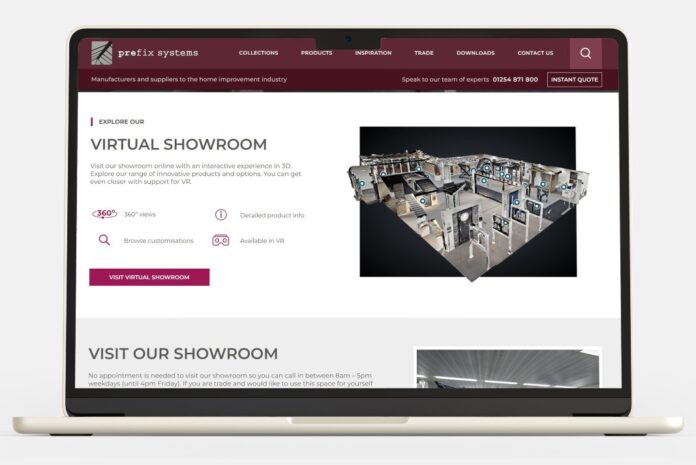 Prefix Systems' website now features a virtual showroom. The online tool is designed to offer the feeling of an in-person visit, as online visitors able to navigate from one product to another and review key features of each individual product, according to Prefix's representatives.
Hannah Wilson, Prefix's marketing manager, said: "We launched our new showroom in 2019 before the pandemic and we found it to be a huge success with both trade and consumers. However, since 2020, when Covid hit and we had to close our showroom to visitors, we have seen fewer visitors keen on visiting in person: they would prefer to speak to us over the phone or email about our products and what we can offer to their business or home.
"Our new virtual showroom is hugely important to existing and potential customers and homeowners who are either too far away to make the visit or who would prefer to view our products online. Each product can be clicked on to view further information. If they see something of interest, they can get in touch for further information or to get a quote. It's also much more relaxing as they browse in their own time and in the comfort of their own surroundings, taking the pressure off."
The virtual showroom has a 360° interactive and realistic experience. It's also available to view in VR if visitors have the equipment.
The physical showroom is located at Prefix's head office in Blackburn, Lancashire, and is now open. The company's representatives are encouraging visitors to take a look around in person when they are able to. No appointment is needed on weekdays, and staff are on hand if required to assist with any questions that visitors may have. Showroom opening times are Monday to Thursday, from 8am until 5pm, and on Fridays from 8am until 4pm.