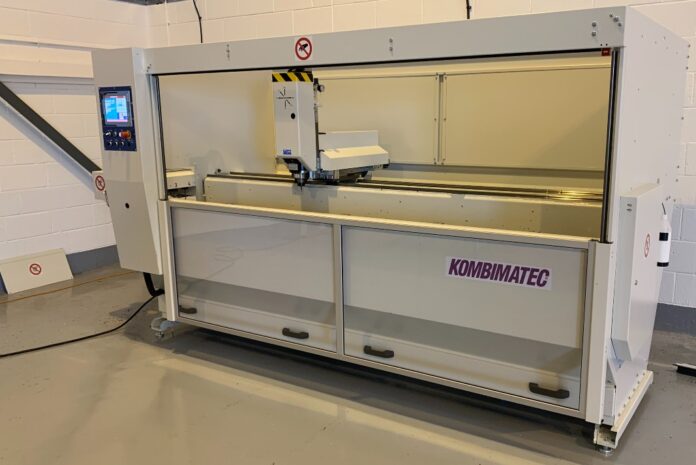 Knowsley-based Door and Windows Systems (DAWS) has bought a second AMC308 automatic CNC machining centre. It is the sixth Kombimatec machine to join DAWS' operations in three years. The latest Kombimatec addition to DAWS' operations is set to help the business continue on its quality-first, cost-effective growth trajectory.
Robbie Rogers, DAWS' director, said: "We're delighted to have installed another Kombimatec machine that will help us continue to grow our business and further increase efficiencies without compromising on the exceptional standards we pride ourselves on and which our customers demand. Kombimatec provide us with what we need, with a supportive service to get it installed and up and running along with any staff training that is needed, so we can quickly and easily increase our output and streamline our production process without disrupting our existing operations."
The AMC308 3+1 axis machining centre features an easy-to-use, intuitive touchscreen interface, we are told, as well as a full, automatic cycle programmed with built-in macros. A 5HP electro spindle, inverter driven to 18,000rpm, makes it ideal for routing aluminium and light steel profiles, its creators have said.
The machine also has an ISO30 Quick Change Tool holder and an automatic tool change cabinet, a workbench rotation of 0-90-180 degrees, and both front- and end-loading options for longer profiles. "Our AMC308 provides exceptional levels of precision and reliability, which is why valued customers like DAWS come back to us when they need to ensure they are supplying high-quality, premium doors and window products in the most cost-effective way," said Kombimatec's director, David Parsons.
"Our machining centres are user-friendly, easy-to-programme and automate those traditionally time-consuming tasks so operations are faster and more accurate, freeing up manpower and reducing wastage too." To find out more about Kombimatec's range, installation and operation training services, call 01582 562 218 or email sales@kombimatec.com.
DAWS is a Smarts Systems fabricator that specialises in high-performance aluminium doors, windows, bi-folds and sliding doors. The firm sells products purely to trade customers.