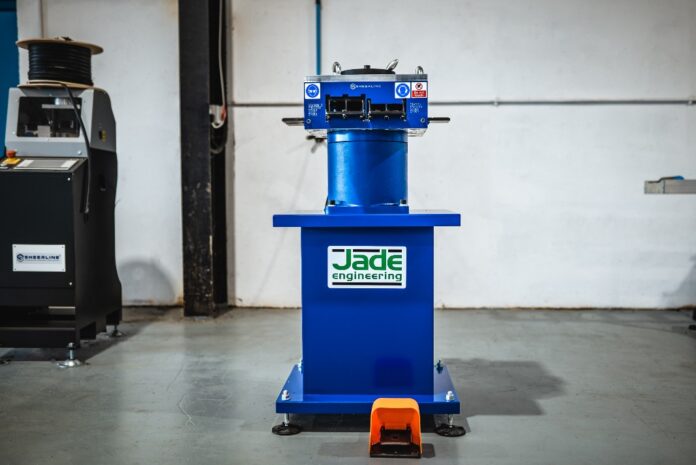 Jade Engineering has created a bespoke solution for the production of Sheerline, the Installer Award-winning aluminium window and door system from the aluminium extrusion company, Garnalex. The solution has saved Garnalex further investment and factory space, and has been described as "highly effective, yet incredibly simple".
When designing its Sheerline aluminium window and door system, Garnalex's designers and engineers began with a blank sheet. Led by Roger Hartshorn, the team created a range of products for which even the tiniest detail in its design, production and performance, was reconsidered.
Jade Engineering, which has designed and produced tooling, machinery, and frame manufacturing solutions for most of the UK's systems companies and their fabricator customers, was called in by Garnalex to develop a new approach to a relatively simple task. Andy Russell, Garnalex's technical service and support director, explained: "Sheerline frames are manufactured using a patented corner assembly method that removes the need to crimp profiles together. For this unique system to work, holes must be drilled in every profile to provide access to adjustment screws, which is a process that is easy to accomplish but that must be done across all 30 plus profiles that are used in our system.
"Having worked with Jade Engineering for more than 20 years, I knew they'd find a smart solution to cope with the challenge of carrying out the hole punches across a large range of profiles, while reducing the number of punch tools required to carry out the task. And as usual, Jade came up with a solution that is highly effective, yet incredibly simple in its design and execution."
Jade's approach was to develop a multi-tool that could be simply and quickly adjusted to switch between the various profiles – in effect producing a 'Swiss Army knife' for processing multiple aluminium profiles. Whilst the multi-head tool is more complex and expensive than single-function tools, the need for time-consuming tool changes and multiple punch stations is dramatically reduced.
"Jade's approach has saved a huge investment in punch tool stations, which also saves an enormous amount of factory space, in addition to speeding up the simple but essential process of punching holes with great accuracy and over many cycles," said Andy. "In addition to developing the tool head, the punch tool and pump units produced by Jade are engineered to the highest standard, and require very little attention," he added. "Jade understands the sector and is highly proactive; we go to them a clear idea of what we want to achieve, and, from our drawings and brief, they come up with innovative and clever solutions."
The punch tools were delivered to the Garnalex factory at Nether Heage in Derbyshire, before being sent out to fabricator customers under the watchful eye of Roger Hartshorn. Adam Jones, director of Jade Engineering, said: "When the head of the company is a renowned engineer himself, of course it makes providing a solution that much more satisfying. Sheerline has gained an impressive reputation for innovation, and we are delighted to have contributed to that."