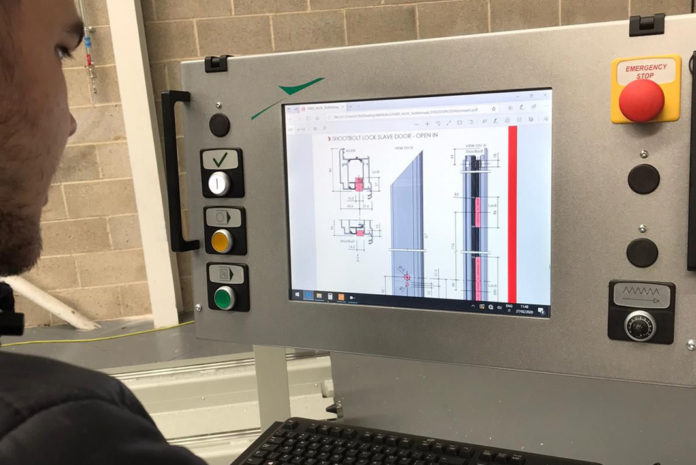 To capitalise on the growth in aluminium, Titan Trade Windows has opened a new 4,300ft2 factory in Derby to manufacture aluminium windows, doors and bi-fold doors. The facility features a FOM Adir C CNC machining centre and a TT 425 double mitre saw, both from Haffner Murat.
Ben Vowles, operations manager at Titan Trade, said: "Historically we've been a PVC-U fabricator and we bought in aluminium products when they were needed, but recent growth in demand for windows and entrance doors in addition to bi-fold doors means it made sense for us to manufacture our own. We had no hesitation in choosing Haffner Murat machines for the factory. We've always used Haffner Murat machines in our PVC-U facility and we know we can trust the quality of the machines, the after-sales service support and the reliability."
The FOM Adir C CNC machining centre is a 3-axis controlled unit that has been designed to speed up production, improve quality and be extremely user-friendly. It features CNC controlled axis linear guides for precision machining, there is an option of a 5 or 6 position tool holder for manual or automatic change operation and pneumatic rotation of the work table achieves angles of 0°, 90° and 180°. The machine has four pneumatic vices with dual working pressure for 'quick and accurate' profile clamping while a pneumatically controlled front guard makes loading material easy.
According to Haffner, the TT 425 double mitre saw offers 'incredible length, angle and cutting accuracy' thanks to its solid case construction and linear bearing system. A horizontal and vertical clamping system ensures optimum profile fixing to improve quality and there are numerous practical features such as a pivoting range with digital display, work piece supports and profile lifting bars. A cleat cutting facility and oversize length cuts between 4mm and 4,500mm delivers 'maximum versatility'. Item numbers, length dimensions, angles and quantities can be programmed on the control panel, while data can be transferred via a connection or USB, so it can slot into every IT set up.
Matt Thomas, regional sales manager of Haffner Murat, commented: "We've worked with Titan Trade Windows for a number of years so we were delighted to support them in setting up their latest venture."