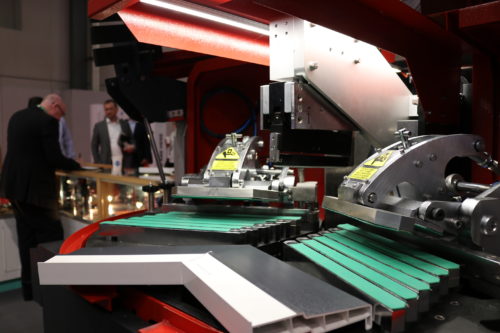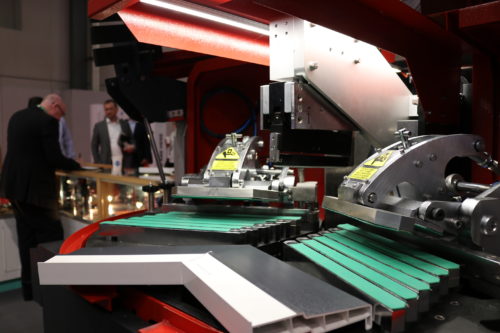 Promac Group has reported 'exceptional demand' for its new Graf Synergy SLS sill welder, which is said to bring 'seamless welding technology' to the fabrication of bay and conservatory sills.
Part of the new FOM-GS Group machinery offer, the SLS is said to exploit the same zip-welding technologies as the Graf SL4-FF range in sill manufacture, to deliver an 'exceptional finish' – but also at a fraction of the overall time associated with traditional fabrication.
Speaking at last week's FIT Show, Joe Hague, managing director, Promac Group, said: "We've been asking customers how long a bay or conservatory sill weld would normally take to process and it's anywhere between 10 to 15-minutes taking into account welding, cooling, knifing off, sanding, buffing and any penning in.
"The SLS total cycle time is less than two minutes per weld, delivering extra strength whilst removing all of the abrasive processes. Its unique ability to automate a very manual operation is key to its viability and by comparison, delivers stunning results on white and exceptional performance on foiled.
"The philosophy of our stand is about helping our customers to make more money – either by achieving savings through efficiencies or in creating new opportunities – this is absolutely epitomised in the SLS and in the other highly innovative machines we have on stand."
Machinery manufacturers FOM and Graf Synergy joined forces to form the new FOM-GS Group at the end of last year and it's combined offer was described as 'the foundation' of Promac's stand at this year's industry expo. This included the new SL4 H, an evolution of the FF series, which supports the welding of transoms and mullions into the seamless welded square for the first time.
It also featured the new ProfteQ timber look cutting and welding module, which allows fabricators to manufacture a 90/45 degree internal or external timber look window, at low entry cost.
"The combination of the cutting and welding module will allow any PVC-U manufacturer to produce timber look windows, without the need for multiple milling. It puts timber look windows within the reach of everyone", continued Joe.
"What we have seen at this year's FIT Show is a continued move to high end quality products within all sectors of our industry which drives confidence in the market and therefore investment," said Joe.
He concluded: "As part of the supply chain mechanism, Promac will always push for innovative solutions that lead the way in product development, effective performance and efficiency."