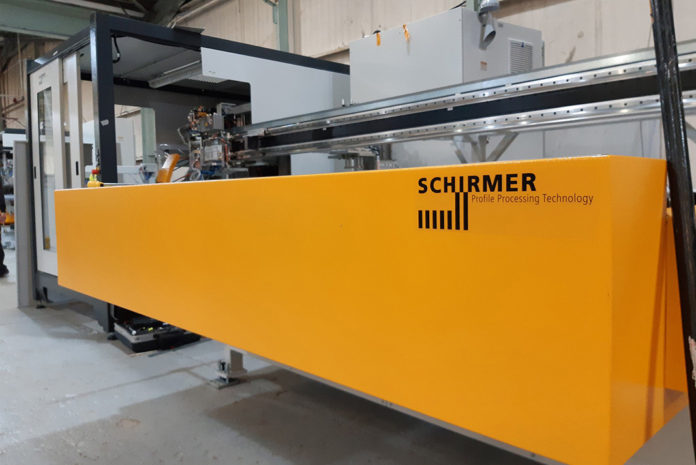 Quickslide's £2m staged investment continues to gather pace with the fabricator recently commissioning and installing a state-of-the-art Schirmer CNC machine, as part of its ongoing commitment to company growth and overall enhancement of its Brighouse factory, systems and processes.
The new Schirmer cutting and prepping centre – which has been over a year in the making – is said to have been 'intelligently engineered' by supplier Promac to meet Quickslide's precise needs. At almost 100ft long it is set to take centre stage inside Quickslide's factory, with its speed and precision designed to streamline production, increase efficiencies and boost capacity.
The introduction of the new CNC is just one example of Quickslide's recent factory improvements, as it follows another significant investment in two corner cleaners and two quad welders since the investment programme began 18 months ago. This has also been complemented by a further £280,000 outlay to expand the Quickslide vehicle fleet.
In addition to investment in premises and equipment, Quickslide says it has been busy recruiting 38 new employees. These additions include 'expert heads' for its marketing, quality assurance, HR and customer service departments, as well as new engineers, fabricators, drivers and members of the sales team.
Supporting the business expansion, there has been further investment in-house, with a new online HR and health and safety system, along with site improvements (for parking and loading) and the introduction of a BUPA Employee Assistance Programme to help maintain the welfare of all staff.
"We're committed to continually improving all areas of our business, and we're thrilled to be installing more specialist machinery which will enable us to increase our capacity while improving our quality and efficiency," said Quickslide's managing director, Ben Weber.
"We pride ourselves on being at the forefront of product innovation and due to continuing demand for our market leading products, such as the new generation Legacy VS, we're keen to future-proof our business for the next five to ten years."
"Our ongoing multi-million pound investment means we're now set to increase our manufacturing capacity significantly over the next few years, helping us to keep up with demand from our installer partners whilst maintaining the level of quality and service they have come to expect from Quickslide."