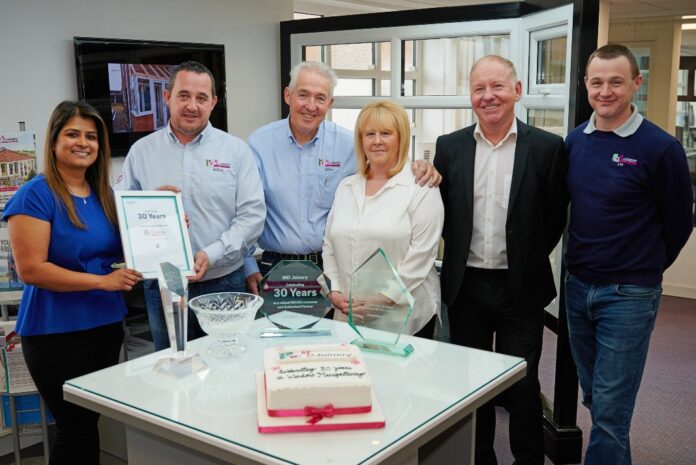 MD Joinery has marked its 30th anniversary with the polymer supplier, Rehau. Based in Southport, the family-run business was one of the first UK companies to fabricate windows and doors using Rehau's Total70 window system, which was formerly known as the S706 window.
Husband-and-wife team Mike and Diane Durkin first partnered with the polymer manufacturer in 1991 when searching for a window system to replace their existing solutions like-for-like. "Back when we first established MD Joinery, we were exploring options for an adaptable profile that could seamlessly retrofit an existing window solution," Mike explained. "It was fortunate timing really – Rehau had just launched its S706 system in a multitude of colour options, and we were already familiar with the Rehau name due to its longstanding reputation in the window trade.
"Our partnership started there. The fact we were one of the first UK companies to adopt this profile has helped us successfully establish ourselves as a leading manufacturer for our local community and beyond."
The increased business demand from working with Rehau meant the company relocated to a larger site ten years ago. This growth continued with the expansion of the new premises' showroom and production capacity. Currently operating with 17 employees, including Mike and Diane's two sons and grandson, MD Joinery regularly engages with Rehau's technical division in training staff.
"Even in our early days Rehau has been there to support us with high-quality training sessions that have contributed to the premium-grade window solutions that leave our factory," Mike continued. "This is important as, unlike other fabricators, the majority of our work is still carried out by hand, meaning a higher attention to detail is required when manufacturing frames compared to mass production.
"The versatility of Rehau's PVC-U also means we can develop windows and doors for both the trade and retail sectors. This combination of high-end product and fabricator expertise has contributed to our many years of success.
"We're expecting business demand to continue and we're confident that our factory has the capacity to address this," Mike added. "With that in mind, we're looking forward to the release of Rehau's Rio Flush Fit French Door system. Indeed, its high energy efficiency rating and the fact it is made from recycled materials means we can pass on its sustainability benefits to the community we have served for the last three decades.
"Thanks to our ongoing, accomplished partnership with Rehau, we've been proud to see the MD Joinery name become synonymous with quality window solutions in the Southport area. We're excited to see what the future holds, and what else we can accomplish with their support."
Trisha Naik, Rehau's area sales manager, said: "It's been a pleasure to work with MD Joinery during my time at Rehau and knowing that, over the last 30 years, the company has gone from success to success. We've been thrilled to support them in developing a prestigious reputation in the window trade, which is reflected in its well-presented showroom and factory.
"It has also been fantastic to see MD Joinery's traditional manufacturing approach succeed, with the polymer we supply being masterfully put to use in high-end windows and doors. We're eager to see what excellent products the company produces over the coming years as the partnership continues."