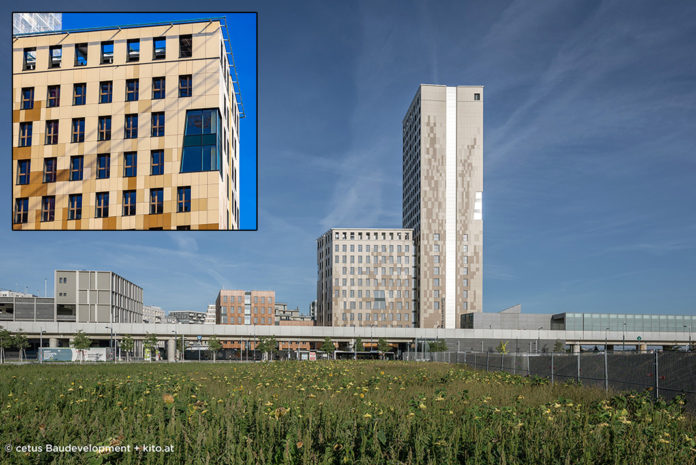 Edgetech's Super Spacer is reported to have helped make one of the world's tallest wooden buildings 'a beacon of energy efficiency'.
HoHo Wien, located in Vienna's 22nd district, is an 82m, 24-storey structure designed to offer a distinctive and sustainable space for hotels, restaurants, offices, apartments and more.
According to Edgetech, the building's 1,100 triple-glazed units all incorporate Super Spacer T-Spacer, allowing them to achieve 'U' values of just 0.5, and helping the building save 2,800 tonnes in carbon emissions compared to a more conventional structure of the same size.
The building itself is a wood-concrete hybrid construction. The interior consists of a solid reinforced concrete core containing staircases, elevators and supply shafts, and prefabricated solid wood structures are arranged around it. The wall and ceiling elements made of spruce remain unclad to retain their natural character.
Its exceptional environmental performance has seen the project receive two accolades – a gold LEED certification, and a gold award from the Austrian Sustainable Building Council.
"We were delighted to be involved in such a fantastic, forward-thinking project," commented Edgetech managing director, Chris Alderson.
"Pair Super Spacer's exceptional energy efficiency with an ingeniously-designed, sustainably-constructed landmark like HoHo Wien, and you've got a template for the architecture of the future."